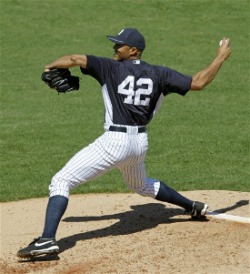 By C. Trent Rosecrans
3 UP
1. Mariano Rivera, Yankees -- In his spring debut, Rivera struck out all three batters he faced -- the Twins' Jason Kubel, Matt Brown and Luke Hughes. Rivera got to spring training late because of his family's bout with the flu. The 41-year old is expected to pitch against on either Wednesday or Thursday.
2. Chipper Jones, Braves -- Jones went 2 for 3 with a two-run homer against the Astros and is now hitting .353/.421/.647 this spring. Not too bad for a guy many expected to be sitting at home this spring instead of coming back for another season with the Braves.
3. Danks brothers, White Sox -- Chicago starter John Danks allowed just one hit in five innings against the Dodgers on Sunday, while his younger brother Jordan was 2 for 5 with a grand slam in a "B" game against Cleveland.
3 DOWN
1. Jaime Garcia, Cardinals -- Garcia was perfect in his first two innings on Sunday, but then gave up four runs in his third, three earned. Garcia's struggled this spring. In his three starts, he's pitched nine innings, allowed 18 hits, 10 earned runs, walked four and struck out four.
2. Joe Nathan, Twins -- Coming back from Tommy John surgery, Nathan hadn't given up a hit or a run in his first four one-inning appearances of the spring. Sunday, he made up for lost time, getting just one out and allowing six runs. He allowed five hits and one walk and a three-run homer by Delmon Young. He did say his elbow felt fine afterward.
3. Tommy Hunter, Rangers -- Fighting for a spot in the Rangers' rotation, Hunter has struggled all spring. It wasn't any better on Sunday, as he allowed seven runs on nine hits and 3 2/3 innings against the Giants. After his outing, Hunter put it plainly: "This spring stinks."
For more baseball news, rumors and analysis, follow @cbssportsmlb on Twitter or subscribe to the RSS feed.