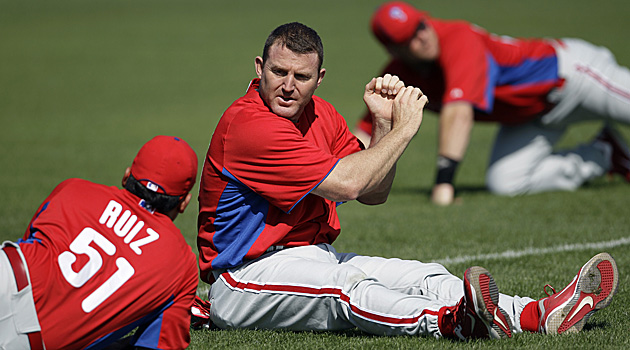 By Matt Snyder
The 2011
Phillies
sported an MLB-best 102-60 regular-season record, but then lost a heartbreaking Game 5 in the NLDS, 1-0, to the eventual World Champion
Cardinals
. Rubbing salt in the wound was slugger
Ryan Howard
tearing his Achilles tendon on the final out of Game 5. He's expected to miss around two months. With him missing time, the Phillies aging stars a year older and a much tougher division in 2012, is the window of opportunity for another World Series title starting to close with this nucleus? It's certainly not closed, but it may be headed that way.
Major additions:
RHP
Jonathan Papelbon
, OF/IF
Laynce Nix
, IF
Ty Wigginton
, 1B
Jim Thome
Major departures:
OF Faul Ibanez, RHP
Ryan Madson
, RHP
Roy Oswalt
, RHP
Brad Lidge
, OF
Ben Francisco
Probable lineup
1.
Jimmy Rollins
, SS
2.
Shane Victorino
, CF
3.
Chase Utley
, 2B
4.
Hunter Pence
, RF
5. Jim Thome/Ty Wigginton/Laynce Nix, 1B
6.
John Mayberry
, LF
7.
Placido Polanco
, 3B
8.
Carlos Ruiz
, C
Ryan Howard will obviously man 1B and slide in the lineup at cleanup when he's ready to take the field, but it doesn't sound like that's happening until late May, if not later.
Probable rotation
1.
Roy Halladay
2.
Cliff Lee
3.
Cole Hamels
4.
Vance Worley
5.
Joe Blanton
Kyle Kendrick
waiting in the wings if someone goes down.
Back-end bullpen
Closer: Jonathan Papelbon
Set-up:
Antonio Bastardo
Important bench players
C
Brian Schneider
, OF
Juan Pierre
and whoever isn't starting at 1B (see lineup above)
Prospect to watch
Domonic Brown
isn't a prospect anymore and much of the Phillies top prospects are in the lower-levels of the minors, so it's slim pickings here -- as to be expected with an elite, veteran club. I'll go with Phillipe Aumont, a relief pitcher headed for Triple-A. The 23-year-old had a 3.18 ERA and 37 strikeouts in 22 2/3 innings once he was promoted to Triple-A last season. Control was an issue, as he walked 14 guys, leading to a 1.54 WHIP, but he certainly has the strikeout capability to contribute to the bullpen later in the season if he gets things figured out. Considering the Phillies are counting on the likes of
Jose Contreras
,
Chad Qualls
and
Dontrelle Willis
in the bullpen, the chances an injury or underperformance open up a spot in the 'pen after a few months are pretty good.
Fantasy bust:
Hunter Pence
"Before you hop aboard the hype train and ride it all the way to crazy town, you might want to remind yourself that the
only
aspect of his game that changed for the better last year was his batting average. He didn't gain any power. He didn't walk more or strike out less. He didn't fundamentally change as a player. He simply got better results, putting together a .361 BABIP instead of his usual .305 or so. It wouldn't be the first time. He had a .377 BABIP as a rookie in 2007, when he hit .322. But the peripherals suggested it was too good to be true then, and they do now as well. Pence is an asset in Fantasy because of his job security and 20-homer power, but he's a .280 hitter who can't take a walk." - Scott White [
Full Phillies fantasy team preview
]
Fantasy sleeper:
John Mayberry
"General manager Ruben Amaro Jr. has made the comparison. Manager Charlie Manuel has made the comparison. It's Mayberry's identity now: the next Jayson Werth. For the Fantasy owners who have played long enough to remember when Werth rose from obscurity to put together a 20-20 season in 2008, that's cause for celebration. But is it a reasonable expectation? Hey, Mayberry is more of a certainty now than Werth was then, having hit 15 homers in 267 at-bats last year. Like Werth, he's a former first-round pick who, like Werth, didn't begin to meet his potential until his late 20s. And like Werth, he happens to be in the right place at the right time to take advantage." - Scott White [
Full Phillies fantasy team preview
]
Optimistic outlook
World Series champs. By now, anything less is a disappointment for a group with so much talent and postseason experience.
Pessimistic outlook
The offense badly struggles without Howard -- who falls behind in his rehab and misses three months -- with age declines limiting production from the likes of Utley, Rollins and Polanco. Worley comes back to Earth after his insane 2011 season and Blanton continues to struggle with injuries. Even with all that, the Phillies would still be good enough to be a playoff contender, even in the mighty NL East, due to the new two-wild-card playoff format. It's hard to envision enough things going wrong to have them finish below the
Braves
,
Marlins
and
Nationals
. Maybe two of the three -- in a worst-case scenario -- but not
all
three.
For more baseball news, rumors and analysis, follow @EyeOnBaseball on Twitter, subscribe to the RSS feed and "like" us on Facebook.