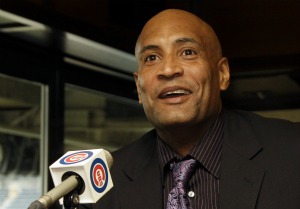 By C. Trent Rosecrans
The interviews, it seems, are done for the three managerial openings. The Cubs, Cardinals and Red Sox are all done with their first round of interviews and it appears the hirings could come relatively soon.
Cardinals general manager John Mozeliak told Derrick Goold of the St. Louis Post-Dispatch that the Cardinals' next manager will come from one of the six candidates the team interviewed. The Cardinals interviewed former Red Sox manager Terry Francona, Ryne Sandberg, third base coach Jose Oquendo, former Cardinals catcher Mike Matheny, Triple-A manager Chris Maloney and White Sox third base coach Joe McEwing.
"I'm fairly confident that it will," Mozeliak told Goold when asked if the team's next manager would come from that list.
That does not mean there will not be further questions asked of any of those six, but it doesn't appear that a surprise candidate will emerge.
Cubs general manager Jed Hoyer wasn't quite as definitive about his team's next manager coming from the list of four interviews that they have already conducted.
"I wouldn't guarantee that it is (the entire list), but we feel really good about the four guys we brought in," Hoyer told MLB.com's Carrie Muskat. "We had four very good interviews. I wouldn't rule out an additional candidate, but it's not a certainty."
The team interviewed Indians bench coach Sandy Alomar Jr. on Friday. It has also interviewed Phillies bench coach Pete Mackanin, Brewers hitting coach Dale Sveum and Rangers pitching coach Mike Maddux.
The "additional candidate" could be Francona. Hoyer said Theo Epstein has already talked to Francona, and with the history between the two, a formal interview wouldn't be a necessity. There's also Rays manager Joe Maddon, who was the other finalist when Epstein hired Francona in Boston. Maddon's resume would certainly make an interview unnecessary, although the Cubs would have to work out a deal with the Rays for compensation -- something they've still been unable to accomplish with the Red Sox.
As far as Francona's successor in Boston, Alomar, Sveum and Mackanin have already interviewed with the Red Sox. Blue Jays first base coach Torey Lovullo interviewed on Friday and Tigers third base coach Gene Lamont will interview on Saturday. Red Sox general manager Ben Cherington told reporters after Louvullo's post-interview news conference that the team had no plans on bringing in additional candidates after interviewing Lamont on Saturday. He also added that the team had not been formally turned down by another other organization when seeking permission to interview candidates.
For more baseball news, rumors and analysis, follow @eyeonbaseball on Twitter or subscribe to the RSS feed.