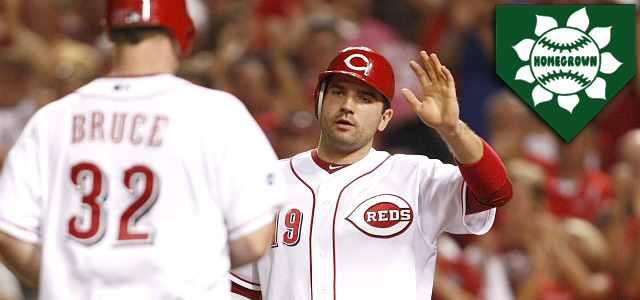 By C. Trent Rosecrans
What if players were only permitted to stay with the team that originally made them a professional? No trades, no Rule-5 Draft, no minor or major league free agency ... once you are a professional baseball player, you stay in that organization. This series shows how all 30 teams would look. We give you: Homegrown teams. To view the schedule of this feature, click here.
During the series, we've seen some lineups that would be completely foreign to the hometown fans, and some a little less so. The homegrown Cincinnati
Reds
, for better or worse, look quite similar to the team that took the field at Great American Ball Park this past season. While there are similar strengths, the same problems also crop up.
Lineup
1.
Jay Bruce
, RF
2.
Justin Turner
, 2B
3.
Joey Votto
, 1B
4.
Adam Dunn
, LF
5.
Juan Francisco
, 3B
6.
Drew Stubbs
, CF
7.
Devin Mesoraco
, C
8.
Zack Cozart
, SS
Starting Rotation
1.
Johnny Cueto
2.
Mike Leake
3.
Homer Bailey
4.
Travis Wood
5.
Zach Stewart
Bullpen
Closer -
Aroldis Chapman
Set up -
Todd Coffey
,
Logan Ondrusek
,
Jordan Smith
,
Josh Roenicke
,
Enerio Del Rosario
Long -
Sam LeCure
Notable Bench Players
Yonder Alonso
,
Yasmani Grandal
,
Adam Rosales
,
Ryan Hanigan
,
Chris Heisey
,
Chris Denorfia
,
Chris Dickerson
. The Reds hypothetical situation behind the plate is the same as their current situation, one underrated catcher and two promising prospects, a problem most teams would envy. The hypothetical Reds also have no real spot for Alonso, although a short leash on Dunn could have this homegrown team toy with the notion of trying Alonso in left -- just like the real Reds.
What's Good?
The lineup's going to put up runs, that's for sure. There are some lineup construction problems, but this team can flat out hit, especially in their home ballpark. The defense isn't as good as it is in real life, it's still not too bad (with the exception of Dunn). The team has a lot of talent behind the plate and the bench is deep with some versatility.
What's Not?
The Reds were unable to repeat their 2010 division title in large part because of the failings of their starting rotation -- that's not fixed with these five. There's also no real answer to the team's search for a leadoff man, just like the real Reds. This bullpen isn't as experienced or strong as the real thing, either.
Comparison to real 2011
While there are some key personel missing, like
Brandon Phillips
and
Francisco Cordero
, there's also an added boost to the lineup of Dunn (we'll just assume he would have performed closer to his career numbers than his historically bad 2011 in the familiar confines of Great American Ball Park than in Chicago), the offense would have been about the same. The pitching, though, is still a problem, so this squad may fair a bit worse than the team's 79-83 record. However, the team is interesting, talented and young.
Next:
Kansas City
Royals
For more baseball news, rumors and analysis, follow @EyeOnBaseball on Twitter or subscribe to the RSS feed.