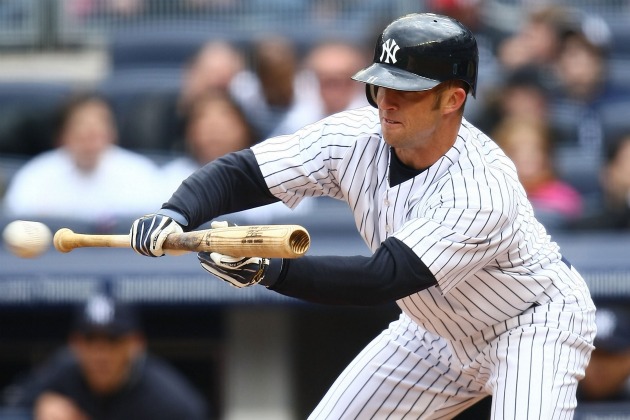 By C. Trent Rosecrans
In
today's Pepper
, we talked about
Brett Gardner
maybe getting a shot at supplanting
Derek Jeter
as the
Yankees
leadoff man. It makes perfect sense, Gardner is crazy fast and gets on base at a good clip.
The one thing he may have to improve upon is bunting. In 995 plate appearances in the big leagues, he has just 10 bunt hits. You'd think with his speed, which is truly elite, he'd try to lay down more bunts.
"The last few years, I just kinda got away from it, it's something I didn't really try to do, I guess it's something I didn't use as much as I should have," Gardner told CBSNewYork.com. "It's not something I've completely lost, it's something I'm going to continue to work at, something that will make more of a complete player and give me another weapon to use to get on base, get guys over and put the ball in the defense's hands and make them make mistakes."
Gardner had 18 bunt hits in 251 plate appearances at Double-A Trenton in 2009 in 2006, so it's not like he can't do it.
I'm not normally a big fan of the bunt as an offensive weapon, but for someone with superior speed such as Gardner, it can be a game-changer. At the very least, just the danger of him laying down a bunt could benefit the Yankees.
Gardner said he's been good at sacrifice bunts, but needs to work on bunting for hits.
"The thing for me is, I could sit out here all day and practice and do it right and do it right and do it right, but in game situation, your adrenaline is pumping and I'm always try to put the ball on the ground and run," Gardner said. "So it's a matter of staying in there a split-second longer and making sure I get the bunt down and a good bunt and then run as opposed to running out of the box and losing my angle and letting the bat head drop and fouling the ball off, which is a bad habit I've gotten in the last couple of years. I'm much better on a regular sacrifice bunt because I take my time and I don't rush and I make sure I put the ball on the ground where I want to and for the most part I've been able to do that when I slow things down."
Gardner had seven bunt hits last season, so he is working on it. Still, he was successful on just 36.8 percent of his attempts for a base bunt hit, it's something with work he could improve upon.
The Angels' Erick Aybar and Julio Borbon of the Rangers led the big leagues last season with 18 bunt hits, while only seven more players had as many as 10 bunt hits. Texas' Elvis Andrus had 13, while Angel Pagan, Gregor Blanco, Juan Pierre and Nyjer Morgan each had 12 bunts hits and Michael Bourn had 10. In that group, Blanco had the best percentage at 57.1 percent, while Pierre was the lowest at 21.8 percent.
For more baseball news, rumors and analysis, follow @cbssportsmlb on Twitter or subscribe to the RSS feed.