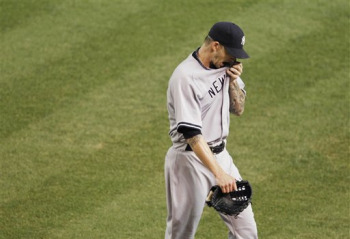 OK kids, a little lesson I learned in college -- there's no winner when you hit an inanimate object. The best case scenario is a tie. Worst case scenario is you break something and you've got to pay. In my case, it was my left hand, which hurts when you're left-handed and you've got classes on the history of the Russian Revolution and medieval Japan -- note taking and essay writing can be a chore with a cast on your hand.
The
Yankees
'
A.J. Burnett
lost his cool Saturday and had to leave in the third inning because of cuts on his hands.
Here's how the
Star-Ledger 's Mike Mazzeo described the action
:
Clearly frustrated after allowing three runs over the first two innings of his start this afternoon, Burnett, 33, went into the clubhouse and pushed a pair of Plexiglass lineup holders on the wooden double doors leading into the showers with great force, causing both of his palms to be cut.

Embarrassed by his actions, Burnett, who sustained lacerations on both hands, initially told trainer Steve Donohue he cut his hands bracing himself after falling down the dugout stairs. However, he later fessed up when questioned by manager Joe Girardi.

"I let my teammates down," said a remorseful Burnett after the Yankees' 10-5 loss to the Rays. "I let my frustrations get the best of me. It's something I've got to deal with."

[Joe] Girardi let Burnett pitch the third inning, hoping he would regain his composure and turn it around. But after the enigmatic right-handed flamethrower hit Evan Longoria and threw a wild pitch before allowing an RBI single to Carlos Pena, Girardi had enough. He went out to the mound along with trainer Gene Monahan and pulled Burnett from the game.

Burnett isn't expected to miss his next start, Girardi said and the pitcher noted he'd already apologized to Brian Cashman and would apologize to his teammates on Sunday.
The incident is reminiscent of a similar action by Kevin Brown in 2004, but Brown didn't suffer any cuts.
Burnett got the loss against the Rays and fell to 7-8 with a 4.99 ERA this season, with just one win in his last eight starts. Burnett is in the second year of a five-year, $82.5 million contract that pays him $16.5 million annually. For their troubles, the Yankees have gotten a 20-16 pitcher with a 4.37 ERA in 52 starts. Not a bad back-of-the-rotation guy in the leagues, but hardly someone you'd like to owe more nearly $60 million.
While not a complete bust -- Burnett can be dominating at times -- it's still a price tag that would cripple just about any other franchise, but once again the Yankees are different. It's naive -- and flat out incorrect -- to claim the Yankees buy titles and win only because of their free agent signings. No, the biggest difference for them is their ability to overcome these types of offseason mistakes. They pay dearly in dollars, but not in any other way.
-- C. Trent Rosecrans
For more baseball news, rumors and analysis, follow @cbssportsmlb on Twitter.