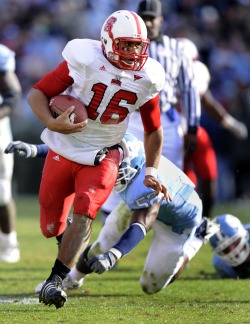 By C. Trent Rosecrans
Colorado Rockies prospect Russell Wilson's baseball career cost him his quarterback slot at North Carolina State.
Wilson, a three-year starter for the Wolfpack, said he wanted to return to N.C. State but when it became clear that coach Tom O'Brien wouldn't give him a fair shot at winning the starting quarterback job because he's playing baseball. Wilson, instead, asked for -- and was granted -- a release from his scholarship.
"I really want the fans, N.C. State alumni and most of all my teammates to know if I had been given an equal opportunity to compete for the starting job, I would not have asked for my release," Wilson told the Charlotte Observer. "I am a competitor."
O'Brien read statement over the phone to a reporter when reached for comment.
"He knew the importance of his time commitment to our football team heading into this offseason, and how things might change if he was not able to make that commitment," O'Brien said in both his statement and when he read the statement to the Observer.
Wilson said he respects O'Brien and what he wanted to do, but he still would have liked to have a chance to finish his career at N.C. State. Wilson had hoped to play both professional baseball and football, but will seek to exhaust his football eligibility and play another season. He said he needs to play in 2011 in order to show what he can do to the NFL.
Wilson led the ACC with 274.1 passing yards per game and with 307.5 yards of total offense, leading the Wolfpack to a 9-4 record, including a victory over West Virginia in the Champs Sports Bowl.
Because Wilson has already earned his degree from N.C. State, he would be eligible to transfer to another FBS school if he enrolls in a graduate program not offered by N.C. State. Wilson will certainly have plenty of options for places to play, inkling some SEC schools.
As a baseball player, the 22-year-old second baseman, is hitting .226/.377/.387 with a home run and four stolen bases in 21 games for the Class A Asheville Tourists. He's a teammate of former Clemson quarterback Kyle Parker, who is hitting .368/.416/.574 with two homers.
Wilson was drafted in the fourth round last year and signed for $200,000 with the Rockies allowing him to continue his football career.
Baseball America ranked him as the No. 19 prospect in the Rockies' system.
For more baseball news, rumors and analysis, follow @cbssportsmlb on Twitter or subscribe to the RSS feed.