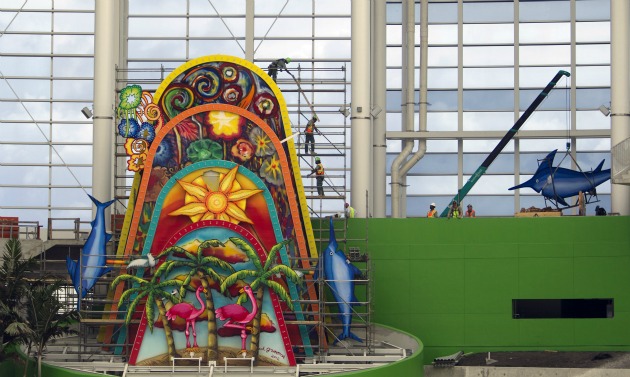 By C. Trent Rosecrans
The Miami
Marlins
have been anything but boring since ending the 2011 season -- new players, new uniforms and a new stadium. While there have been debates about the merits of many of the team's transactions and designs, one thing has been universally panned -- the new home run celebration feature.
An Associated Press photographer got a tour of the new park on Thursday and posted the picture above on Friday.
This is what it's going to look like in action:
The other day,
Matt posted some other photos from the ballpark
that show exactly where the Red Grooms-designed sculpture will reside and its size relative to the rest of the ballpark.
As bad as this is… and it looks like some kind of train wreck, like the uniforms, it's growing on me. It'll be unique, that's for sure. It's garish, outlandish and, well, fits with Miami. I can't wait to see it in action after a
Mike Stanton
bomb. You know, at some point you just have to loosen up, relax and remember it's all a game and it's all for fun. It may not be traditional, but after 20 years of throw-back stadiums, I'm excited to see the future -- even if it looks like a South Florida souvenir shop exploded.
For more baseball news, rumors and analysis, follow @EyeOnBaseball on Twitter, subscribe to the RSS feed and "like" us on Facebook.