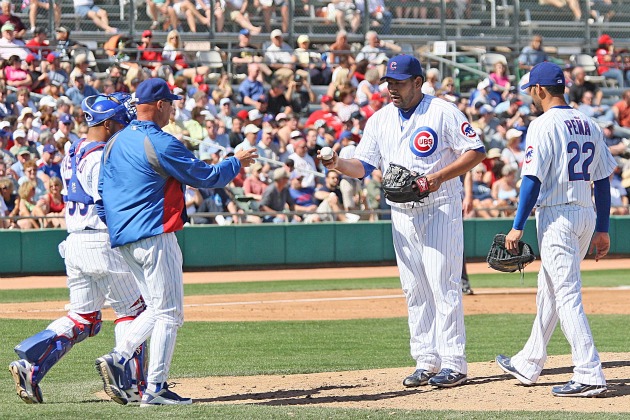 By C. Trent Rosecrans
Either it's crazy or it makes perfect sense. And, in an upset, I'm going with the latter.
After his second rough outing of the spring, Cubs starter Carlos Silva went to Carlos Zambrano for help.
Silva allowed 10 hits and eight runs in 2 1/3 innings on Monday, and his first instinct was to turn to his countryman.
"Right after I finished pitching, I texted Zambrano, and I was telling him, 'Man, I don't know what's going on,'" Silva told Joe Cowley of the Chicago Sun-Times. "What he told me in the text was, 'You just need to forget everything, go out there and pitch and do your thing. You know how to pitch, you did it before, so why can't you do it again.' It's true."
Silva was still frustrated, but he held back and punches this time, so there's progress.
It may seem crazy to go to Zambrano, but there are few people out there more uniquely suited to help Silva than his fellow Carlos. Both are from Venezuela, both have had trouble living up to high expectations and big contracts and both have had incidents with teammates in the dugout. But Zambrano has, at least in the last couple of months, shown signs of bouncing back. He's undergone anger management and worked hard just to get back into the Cub uniform. Sometimes when you're struggling, you just need to hear from someone who has been there. If anyone can find the right words for the talented Silva, it just may be Zambrano. And for now, it doesn't seem like it could hurt.
REMEMBERING CHRISTINA: The White Sox and Diamondbacks played an exhibition in Tucson on Monday to raise money on behalf of shooting victim Christina-Taylor Green.
Yahoo!'s Jeff Passan was there and passes on the moving story.
HAIRY BIRDS: Facial hair fans, it's time to celebrate -- the Orioles are relaxing their ban on the most manly of expressions, in response to Derrek Lee and Vladimir Guerrero desires to wear goatees.
Luke Scott and Nick Markakis are taking advantage of the new rules, as well. (Baltimore Sun)
CONFUSING CONCUSSIONS: Sometimes there's a story that just grabs me and I read everything that comes along about it. For the last couple of years for me, that's been concussions in sports.
The New York Times looks at how no two concussions are alike, using the examples of Justin Morneau and Josh Beckett.
While Beckett bounced back from his concussion last week, Morneau still isn't back.
NAME GAME: Looking for some puny fantasy baseball names? The Orange County Register has you covered, if just for its several Shin-Soo Choo puns. I'm one of those people that have the same name every year since I've been playing -- Royal Disappointment. And I've yet to not live up to my name.
LONEY RETURNS: James Loney was back on the field Monday after missing two days with a swollen left knee. He didn't play in the Dodgers' game, but could return to the lineup by Wednesday, manager Don Mattingly said. (MLB.com)
UTLEY TO OF? Phillies senior adviser Dallas Green thinks it might be wise to move Chase Utley from second base to help save his knees. The Philadelphia Daily News' Paul Hagan disagrees.
GOOD IMPRESSION: If you haven't heard of the Braves' Julio Teheran yet, you will. The top pitching prospect in baseball made his first appearance in a Grapefruit League game yesterday and hit 96 in a scoreless inning of work. (Atlanta Journal-Constitution)
HOT TICKET: The Marlins have sold out the Diamond Club section of their new ballpark for next season. Now, that's just 379 seats, but they're high-priced seats, so it doesn't exactly hurt.
The team says the highest-priced seats are selling well. (MLB.com)
NO BUENO: The blog itsabouthtemoney.net takes up the case to former Cardinals minor league shortstop Lainer Bueno who was suspended for the first 50 games of this season for testing positive for clenbuterol.
The blog notes it's possible Bueno tested positive for the drug because it is used in livestock and its possible that he ate meat in Venezuela that contained clenbuterol.
HALL OF FAME DEBATE: Diamondbacks manager Kirk Gibson is once again on the College Football Hall of Fame ballot. He's been on the ballot since 2007.
An All-American wide receiver at Michigan State, he led the Big Ten in receiving in league play and led the team to a co-championship in 1978. Gibson only played one season of baseball at Michigan State and was drafted in the first round of the baseball draft and seventh round of the NFL draft by the St. Louis Cardinals.
SPEAKING OF TWO-SPORT STARS: Former Hazelton (Penn.) High quarterback Joe Maddon invited Tampa Bay Buccaneers coach Raheem Morris and two assistants to be his guests at the Rays' camp today.
Maddon said he'd like a chance to run the Bucs' scout team in practice. (St. Petersburg Times)
NG TO MLB: Dodgers vice president Kim Ng is reportedly leaving the team to join the home office of Major League Baseball under new vice president Joe Torre. (Los Angeles Times)
DEMOCRATIC CONCESSIONS: CNBC.com's Darren Rovell is asking readers to vote on the next great ballpark food and dessert -- and the winner from each category will be served at historic Grayson Stadium in Savannah, Ga., home of the Mets' Class A South Atlantic League affiliate, the Savannah Sand Gnats.
STATS TO GO: Baseball-Reference.com has beefed up its mobile site for use on your smart phone, so when you're not at home and you just have to know what George Brett's career slugging percentage is (.487), you know have hope.
SEVEN-MAN ROTATION: The Softbank Hawks of Japan's Pacific League are considering a seven-man rotation for this season. (YakyuBaka.com)
For more baseball news, rumors and analysis, follow @cbssportsmlb on Twitter or subscribe to the RSS feed.