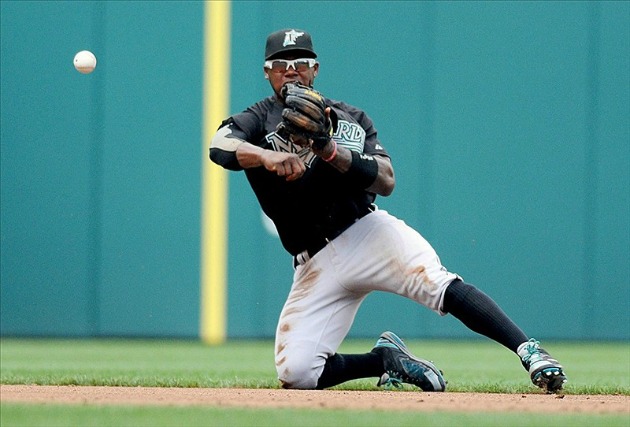 By C. Trent Rosecrans
It sounds like the
Marlins
are doing everything they can to help
Hanley Ramirez
adjust to the thought of playing third base -- or trying to drive up the price for him by making it appear they aren't looking to trade the disgruntled former shortstop who has been pushed aside for free-agent signee
Jose Reyes
.
"It may take a little time for him to get comfortable" with the idea of moving, Marlins president Larry Beinfest told the Miami Herald's Barry Jackson.
Beinfest said he wouldn't divulge specifics about his discussions with Ramirez, but did note that he's talked to Ramirez quite a bit. He notes Ramirez is excited to play for new manager Ozzie Guillen, who may just have to convince him to man up and accept the move. Beinfest said it much nicer, noting Ramirez's "pride."
"Even though we communicated with him and let him know what our intentions were in terms of Jose, he was the shortstop for six years, a very good one," Beinfest said. "We've asked him to move to third. Sometimes it takes a little time for things to sink in. I think he realizes we're a better team with Jose."
It's pretty hard not to come to that conclusion. Ramirez has looked more and more like a third baseman, physically, in recent years and the 28-year-old Reyes is easily superior to Ramirez defensively -- and even if the two were equal, Ramirez is more suited to third than Reyes.
An official told Jackson that the team isn't pressuring Ramirez, but would like him to publicly announce he was willing to move, but it's still two months before pitchers and catchers report, so there's no real hurry to do so -- or hurt his feelings by pressing the situation. The team can let Guillen talk to him and slowly sell him on the idea.
One person who hasn't talked to Ramirez is Reyes.
"I think he wants to be here," Reyes told Jackson. "He wants to win. I want to win, too. Hanley is one of the best players in the game. We are very good friends. I'm going to tell him I'm very excited to play with him. I think we can be one of the best left sides of the infields in history."
The Yankees had the same problem -- if you call two superstars on one team a "problem" -- when Alex Rodriguez joined the team and deferred to the incumbent, Derek Jeter at short. That worked out, in part because one player put his ego aside (if even temporarily) to make the move. If Ramirez won't do that, the Marlins could be stuck with another pouting star and appear desperate to deal him. If they keep his pouting under wraps and remain steadfast in their public stance that he'll be fine, they get a semblance of leverage in a trade. Otherwise, he's a player without a position and an attitude problem -- both things that hurt his trade value.
In the end, it looks like this will all work out, but there's two months until anyone's actually in uniform, so this is what we have to talk about.
For more baseball news, rumors and analysis, follow @eyeonbaseball on Twitter or subscribe to the RSS feed.