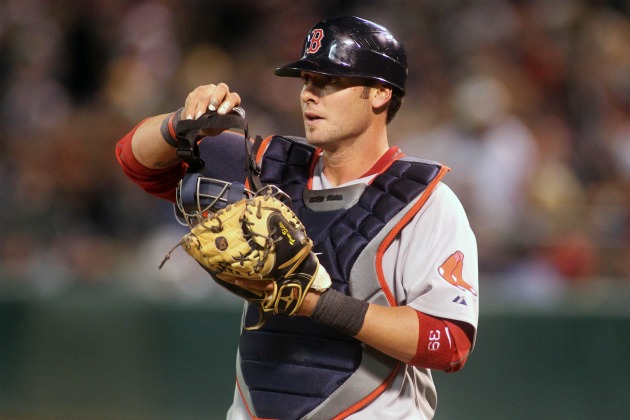 By Evan Brunell
The Red Sox could make a change at catcher in the coming weeks, as Peter Gammons reports on WEEI, noting that "this is an issue that in the next two weeks is going to be addressed, and I don't know which direction it's going."
Incumbent Jarrod Saltalamacchia, once thought to have a leash until June, instead could be on the way out after a thoroughly uninspiring start to the year. Salty has an inaccurate arm and has looked lost at the plate by striking out 13 times in 39 plate appearances with a low .194/.256/.222 line. That's simply awful, and while it's only 39 plate appearances, he's looked so far away from the pedigree that made him a former first-round pick that he's already started losing copious amounts of playing time to Jason Varitek. The captain has started five of the last nine games -- this after Salty kicked the year off with seven of eight appearances.
"He's such a good guy. He cares so much. He tries so hard," Gammons said. "[But] you just can't have this on a championship team, especially when a big part of that championship team is built around power pitchers who are in a couple of cases struggling for their identity. I would be shocked now if Varitek doesn't catch [Josh] Beckett all the time now. Clearly, they've made the decision that he's going to catch [Daisuke] Matsuzaka, whose earned run average is massively different with Varitek catching. But I don't think they can afford to let Jason go out and try to catch 120, 130 games."
Part of the problem is that the performances of pitchers with Salty starting are terrible, with a 7.16 ERA for pitchers with the 26-year-old behind the plate. 'Tek, meanwhile, is at 2.40. It's far too early to consider whether that's an actual issue or dumb luck as the sample size is simply too small. But the fact that Varitek has already become the personal catcher for two starting pitchers is not promising. That said, it remains in Boston's best interest to develop Saltalamacchia. With the Red Sox finally winning and the pressure off searching for quick fix solutions, Salty will get a fair number of at-bats in the next couple of weeks to prove Boston's adamant belief that he can be an impact hitter.
What happens if he can't, though? What happens if Boston decides to move on from Salty? Who can replace him?
It can't be Varitek, who has proven at this point in his career he is no longer capable of starting full-time. But who else is out there?
Internally, Luis Exposito and Michael McKenry (acquired from the Rockies in late March) are splitting time at Triple-A. While McKenry is an intriguing name, he is off to a slow start and in a new organization. Exposito, meanwhile, could end up a starting catcher in the majors but the 24-year-old is struggling himself in his first crack at Triple-A.
Gammons names Tim Federowicz as a possibility, as the Double-A catcher is "the best catch-and-throw guy in the organization." Certainly, if a move was to be made, the Sox would go defense over offense so Federowicz is a real possibility -- a better one than Ryan Lavarnway, a catcher in name only who is DHing as Federowciz's teammate.
How about externally? Boston certainly has the trade pieces to strike for a catcher, as they could dangle outfielder Mike Cameron, infielders Jed Lowrie or Marco Scutaro (likely the latter) and prospects such as Yamaico Navarro, Oscar Tejeda, Kyle Weiland, Lars Anderson ... no, finding chips to deal won't be an issue. Finding someone to deal for is. The best available name is Ivan Rodriguez, who is frozen out in Washington. But there's a reason I-Rod is available: he's no longer a legitimate starter as his bat has abandoned him in his chase for 3,000 hits. Gammons also believes Rodriguez would struggle with the pitching staff in Boston even if he has an impeccable defensive reputation.
Other than that ... umm ...
"If there was somebody available who they thought was really good defensively, I think they would immediately jump and do something. I don't see that catcher," said Gammons. "I've gone through lists everywhere trying to figure out who could possibly be available. I just don't see anybody good. There are guys out there who are OK backups."
And "OK backups" won't fly for the Red Sox. Oh, sure, the Red Sox could entice Bengie Molina out of retirement, but Molina's an aging catcher whose lost all value in his bat and would need a few weeks, at minimum, to get into playing shape.
Bottom line: there isn't much out there.
When push comes to shove, even if the Red Sox believe Salty's leash is only there for two more weeks, they may not have much choice in extending that leash.
For more baseball news, rumors and analysis, follow @cbssportsmlb on Twitter or subscribe to the RSS feed.