By Evan Brunell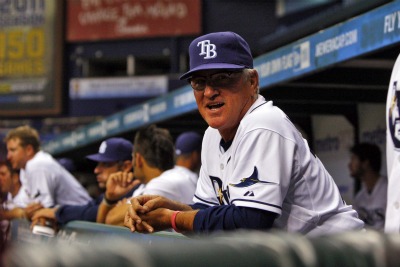 Rays manager Joe Maddon joined WEEI in Boston to speak about the Rays' situation, who are suddenly on a three-game winning streak.
"I just knew it was a matter of time before we started to hit," Maddon said according to a transcript on SportsRadioInterviews.com. "Really the bad start has been attributable to a lack of offense. We just have not been able to move the baseball. A lot of strikeouts, we've hit some balls relatively well, but a lot of weak contact. We had a good inning against the White Sox -- that's how we came back and won, then the first night [in Boston] against [Daisuke] Matsusaka (when the team plated 16 runs in the game). It's nice to get back on the positive side. It does wonders for your confidence."
Now that Tampa has its confidence back and is climbing up the standings, two games ahead of the Red Sox and two behind the Orioles for third place. But can Tampa last without Manny Ramirez? While the team has turned things around sans Manny, it's still a pretty big hole to fill in the long-term. Maddon doesn't appear concerned.
"I think a lot of times when a perceived negative moment occurs within a group a lot of times the rest of the team will rally around that moment," he said. "I also believe at that moment you're going to see a lot of guys elevate their game. In most situations it creates opportunities for people who otherwise wouldn't have that same opportunity, for example Sam Fuld which happens to be working out in our favor right now."
What also helps is that Evan Longoria should be back in uniform by the end of April, which will really bolster the offense and allow Maddon more flexibility in putting the best lineup out on the field every day instead of having his hand forced.
While Fuld has been a revelation in left for the Rays, the hole Carl Crawford left en route to Boston is still rather big. That said, Crawford's been struggling in Boston, but Maddon unsurprisingly believes he will be fine.
Of course he is (feeling the pressure) and that's where I think, I really talk about evaluating situations properly. Once he gets his feet on the ground, catches his breath, and gets used to being here he's going to be just fine."
For more baseball news, rumors and analysis, follow @cbssportsmlb on Twitter or subscribe to the RSS feed.