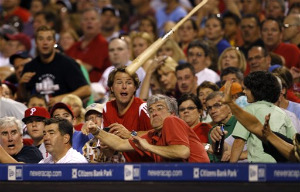 We've got a full news cycle since
Tyler Colvin
was impaled by a shattered maple bat, so there's been plenty of time for response,
including MLB's
.
Here's a sampling of some more reaction, starting with Oakland reliever
Brad Ziegler
, who was cut by a maple bat earlier this season.
Ziegler (
via the San Francisco Chronicle
):
"A little higher and it could have struck him in the throat," Ziegler said. "I'm worried there won't be interest in doing anything until it's too late and it takes a lawsuit when a player or fan gets hurt."

Maple bats now must meet stricter standards to be approved, but, Ziegler said, "Until they are eliminated, the danger is still there. ... This is like having a 2-pound tomahawk flying through the air."
Boston's
Mike Cameron
(
via the Boston Globe
):
"I don't think that's the problem,'' said Mike Cameron, who uses both maple and ash. "I think the problem is the weight of the bats, the way they're designed. All maple bats don't break like that.

"I think the maple bats are something that can be very dangerous when guys get really light ones, really thin handles. They don't have any give in them. I've had some ash bats that do the same thing. I don't think that it's as violent because of the bend in the bats. But probably the biggest thing is when they break, they leave these points. The impact from the ball and a major league player and a bat is going to make a dangerous impact.''
Astros
third baseman
Chris Johnson
(via the
Houston Chronicle
):
"I'm pretty close and if bats break I have to be on the lookout, but I think that's part of the game," Johnson said. "Pitchers are trying to do that — pitchers are trying to break bats - and bats are going to go flying whether they're maple or ash."
And Astros general manager Ed Wade:
"I think we have to continue to conduct the studies that have been ongoing," Astros general manager Ed Wade said. "When bats become spears or projectiles, it's of concern. They have implemented some changes over the course of the last year or so, and sometimes these things will continue to happen no matter how many safeguards you build into it."
-- C. Trent Rosecrans
For more baseball news, rumors and analysis, follow @cbssportsmlb on Twitter or subscribe to the RSS feed .