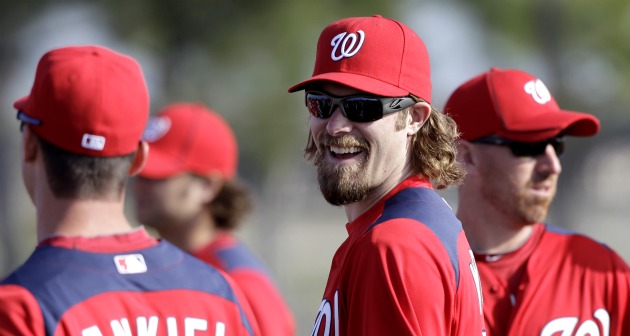 By Evan Brunell
HATE IS A STRONG WORD: How quickly Jayson Werth forgets.
"I hate the Phillies too," Werth said in response to GM Mike Rizzo's complaining about how Philadelphia has thrown purpose pitches and executed dirty plays against the Nationals in recent years.
Werth, in his new role with the Nationals as a $126-million man will be to bring an edge to the club, something club officials felt was lacking. In fact, prior to Werth's arrival, Ian Desmond was considered as the closest to a vocal leader as the team had. Oh, and Desmond was a rookie. But now, Werth will be looked at to assume the mantle and give the Nats a harder edge as they march toward respectability.
No mention of Werth would be complete without acknowledging the stupidity of the outrageous contract handed Werth. But while that contract will come back to burn the Nats one day, at least for the next three to four years, Washington will love his middle-of-the-order bat along with his leadership. (Washington Post)
STICK A NEEDLE IN ME: Jason Hammel has turned to alternative medicine to manage his high cholesterol. A hereditary condition, high cholesterol was responsible for his father's death via heart attack at age 47, and the Rockies pitcher has no interest in following in his father's footsteps in regards to a demise. However, Hammel's treatment via Chestor caused side effects of soreness, which Hammel believes was responsible for his poor finish to the season. Now, he's turned to acupuncture and herbal treatments. (MLB.com)
LEARNING EXPERIENCE: Don Mattingly enters his first season as a major league manager, but has already learned some important lessons. Namely, walking off the mound after a coaching visit and then turning around to answer a question counts as two trips to the mound. That gaffe, put on display last season, is not one Mattingly plans to make again. (San Jose Mercury News)
NEW-LOOK Rangers: It's early yet, but manager Ron Washington has already settled on his lineup. Ian Kinsler will lead off, followed by Elvis Andrus. It's a rather curious move, as Kinsler is more power-oriented while Andrus gets on at a good clip and steals bases. Michael Young will bat sixth to try to increase his RBI opportunities. That leads one to wonder: a baseball move, or an appease-Young move? (Ft. Worth Star-Telegram)
KROONING FOR 200: Marc Kroon is back stateside. The former longtime minor league reliever found success in Japan and nailed down 177 saves in a six-year span. However, Kroon found offers lacking this past season and thus has returned stateside, joining San Francisco in an attempt to make the bullpen. Some believe Kroon is being blackballed by Japan so he will not receive 200 saves, an important landmark in Japanese baseball. Given the league's treatment of foreigners when chasing Japanese baseball records, that comes as no surprise. Kroon still harbors hope he can go back. (San Francisco Chronicle)
ONE STEP AT A TIME: Matt Bush was out of baseball from 2008-09 and was a former failed first-round pick of the Padres with behavioral issues. Now, the ex-shortstop has turned heads since becoming a pitcher and has rocketed up the Rays' depth chart. Bush is still a ways away, but this is one potential feel-good story worth monitoring. (Tampa Tribune)
BOSTON'S WHERE THE STATS ARE AT: The statistical revolution isn't just flooding baseball, it's flooding sports in general. And Boston is where it's all happening, as many consider it the "Silicon Valley of sports analytics." A sports analytics conference is taking place in Boston this upcoming weekend, and the Boston Globe takes a look at how analytics have influenced sports growing out of Boston. (Boston Globe)
IT'S NOT JUST ABOUT BASEBALL: Rays skipper Joe Maddon has a lot on his plate this spring, trying to assemble a new-look Rays team to compete in the AL East. At the same time, he's attempting to make Hispanics welcomed in his hometown of Hazleton, Pa. Residents are resisting the Hispanic influx, which Maddon fears could be the demise of a city with residents long in the tooth. (St. Petersburg Times)
ON SECOND THOUGHT, IT'S JUST BASEBALL: A nice interview with Bill James, who helped usher in the statistical revolution in baseball. There's likely no sports analytics conference in Boston without this talent, but while baseball may constantly be on James' mind, he likes other stuff too. (St. Louis Post-Dispatch)
For more baseball news, rumors and analysis, follow @cbssportsmlb on Twitter or subscribe to the RSS feed.