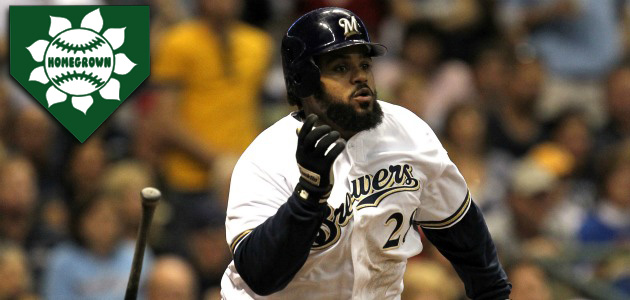 By C. Trent Rosecrans
What if players were only permitted to stay with the team that originally made them a professional? No trades, no Rule-5 Draft, no minor or major league free agency ... once you are a professional baseball player, you stay in that organization. This series shows how all 30 teams would look. We give you: Homegrown teams.
To view the schedule/past entries of this feature, click here.
Last offseason the
Brewers
made two huge moves that powered them to a National League Central title -- trading for
Zack Greinke
from the
Royals
and
Shaun Marcum
from the
Blue Jays
. One look at roster of players the Brewers have drafted and signed out of Latin America tell you exactly why the Brewers had to reach outside the organization for starting pitching. While the team has consistently developed position players, its track record with pitchers -- both starters and relievers -- is not so good. So, check out one of the best lineups in this exercise, and worst pitching staffs.
Lineup
1. Corey Hart, RF
2.
J.J. Hardy
, SS
3.
Prince Fielder
, 1B
4.
Ryan Braun
, LF
5.
Rickie Weeks
, 2B
6.
Brett Lawrie
, 3B
7.
Lorenzo Cain
, CF
8.
Jonathan Lucroy
, C
Starting Rotation
1.
Yovani Gallardo
2.
Manny Parra
3.
Dana Eveland
4.
Mark Rogers
5.
Tim Dillard
Bullpen
Closer -
Mike Adams
Set up -
Craig Breslow
,
Jeremy Jeffress
,
Zach Braddock
,
Tom Wilhelmsen
,
Michael Fiers
,
Mike McClendon
Notable Bench Players
The bench actually has a nice mixture of bats --
Mat Gamel
,
Matt LaPorta
and
Michael Brantley
, along with two outstanding defensive replacements in
Alcides Escobar
in the infield and
Tony Gwynn
Jr. in the outfield. There's also a super-utility guy in Bill Hall.
What's Good?
The lineup is ridiculous. It's like the team's lineup from this year, but better. Lawrie at third base adds serious pop, while Hardy is an upgrade at shortstop (and really, who isn't an upgrade from
Yuniesky Betancourt
?) The core of the lineup is about the same, and shows the team knows how to spot bats that will play in the big leagues. This lineup is certainly one a manager would love to pencil in every, single day.
What's Not?
That pitching staff is ridiculous -- and not in a good way. Yovani Gallardo is a really good pitcher, but the rest ... woof. The fourth starter (Rogers) has 10 innings in the big leagues. The back of the bullpen with Adams, Breslow and Jeffress, well, it's better than the rest of the bullpen. Really, this is all a mess. There's no way this team could compete with this pitching staff. Just brutal.
Comparison to real 2011
Well, the pitching staff ensures this team wouldn't win the division or even sniff the playoffs. The staff is so bad, that even with all the runs they put up, there's likely no way this team wins 70 games. The Brewers tried to slug their way to titles in the past and it was proven it doesn't work. In the end, it's why the Brewers had to gut their minor league system to get Greinke, and trade away an impact bat to get Marcum -- pitching is vital to the success of a baseball team and this hypothetic team has next to none.
Next:
Tampa Bay
Rays
For more baseball news, rumors and analysis, follow @eyeonbaseball on Twitter or subscribe to the RSS feed.