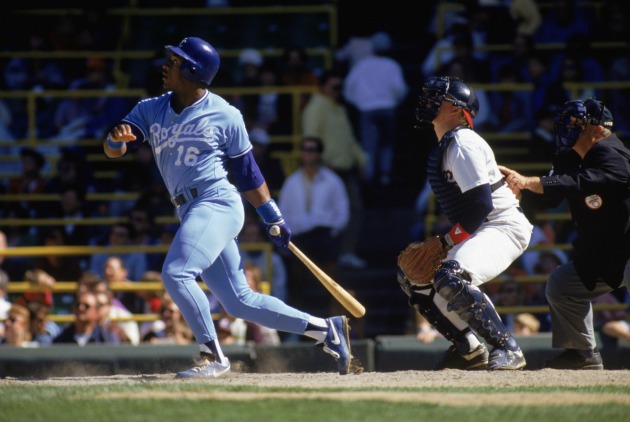 By C. Trent Rosecrans
All-Star teams aren't always composed of stars. For every Mickey Mantle or George Brett or Willie Mays, there's a Mickey Morandini, Ken Brett and Joe Mays.
And then, of course, there's Bo Jackson.
While not all players who make an All-Star team have great careers or stick in our memories, it's not alwyas the Hall of Famers that leave a mark.
Jackson's baseball career was hardly ever boring, he oozed talent -- blending speed and power like few before or after. One of the greatest athletes who ever lived, Jackson was in the majors on pure athleticism alone and was just starting to show off what he could do with more baseball under his belt when he suffered a hip injury in a 1990 playoff game for the Oakland Raiders while persueing his "hobby" of dominating the NFL.
The apex of his baseball career came on July 11, 1989, in Anaheim, Calif. Jackson had 21 home runs at the All-Star break and had been voted into the game as a starter by the fans. He ended the top of the first with a running catch on Pedro Guerrero's liner, saving two runs. But it was the top of the inning that would be his defining moment.
Leading off the bottom of the first, he crushed a Rick Reuschel pitch 448 feet to center field. See the play here:
In the second he beat out a potential double play, allowing the eventual go-ahead run to score. He also stole second, advancing to third on the throw, becoming just the second player in All-Star history to homer and steal a base in the same game. The first was Mays. Jackson was named the game's Most Valuable Player.
I remember listening to the game on the radio as my dad hurried us home after one of my own All-Star games. My team had won, but I was more excited to get home to watch the guy from my other team, the Kansas City
Royals
. I heard the homer on the radio -- and even there you could tell just how hard it was hit by the sound and the announcer's reaction -- and even though I didn't
see
it live, I watched the highlights over and over. My memory as a 13-year-old was just that my team was once again the center of the baseball universe and the Royals would be carried into the next decade by the game's most exciting player. That didn't happen, but I'll always remember that homer, and I'm sure I'm not the only one.
Jackson's not the only player to shine in his only All-Star Game, here's a couple of names, well-known and more obscure, who played in just one All-Star Game but left a mark.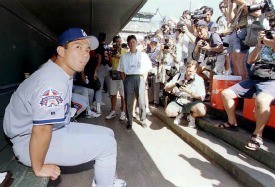 Hideo Nomo, 1995:
With baseball reeling from the strike that canceled the World Series the year before, a Japanese import brought a mania back to the game as the
Dodgers
' Hideo Nomo created a frenzy not only in the United States, but in Japan, as well. Japanese fans got up early in what was there Wednesday morning to watch their new favorite son strike out three batters in two innings. Heathcliff Slocumb, in his only All-Star appearance, would get the win, but Nomo was the reason people were watching to begin with.
Bill Caudill, 1984:
The right-handed reliever had 36 saves for the A's in 1984 and struck out nearly a batter an inning. His lone All-Star appearance was one to remember, striking out all three batters he faced, Tim Raines, Ryne Sandberg and Keith Hernandez in the eighth inning.
Max West, 1940:
Just 23, West started in right field for the National League in 1940 as a representative of the Boston
Braves
, coming off a carer-high 19-homer season in 1939. After the first two batters of the 1940 game at Sportsmen's Park in St. Louis reached off of starter Red Ruffin, West homered to center, leading the team to a 4-0 victory. It would be West's only All-Star at-bat of his career. He missed three seasons due to his service in World War II and played in just two more seasons after the war, never duplicating his pre-war success.
Every great All-Star moment, has another side -- even the Harlem Globetrotters need their Washington Generals. Many players make just one All-Star appearance and not all of their marks are positive. Sometimes a player's lone All-Star Game is something to forget.
Here's a couple of those:
Chan-Ho Park, 2001:
The 2001 All-Star Game in Seattle was all about the retiring Cal Ripken Jr., anyway, but in the third inning the Korean right-hander grooved a fastball down the heart of the plate and Ripken put it into the bullpen, making him the oldest player to ever hit a homer in the All-Star Game.
Brian Downing, 1979:
Downing played 20 seasons and had 2,099 hits and 275 home runs, but made just one All-Star team, in 1979. In his lone All-Star plate appearance, Downing singled off of Bruce Sutter to lead off the eight in a tie game. After a sacrifice bunt, an intentional walk and a strikeout, Downing tried to score on a single to right by Graig Nettles. Had just about anyone else been in right field, Downing scores and is in line to be the game's hero. However, it was the Cobra, Dave Parker, in right. Just watch the video:
Dock Ellis, 1971:
Ellis is best-known for the no-hitter he threw while on LSD, but was good enough to win 138 games in parts of 12 seasons and finish his career with a 3.46 ERA. He made his only All-Star team in 1971 and started the game for the National League at Tiger Stadium. With a 3-0 lead in the third and a runner on first, Ellis faced pinch hitter Reggie Jackson.
After Jackson's homer, Ellis gave up another two-run homer in the inning to Frank Robinson, finishing as the game's loser.
For more baseball news, rumors and analysis, follow @cbssportsmlb on Twitter or subscribe to the RSS feed.