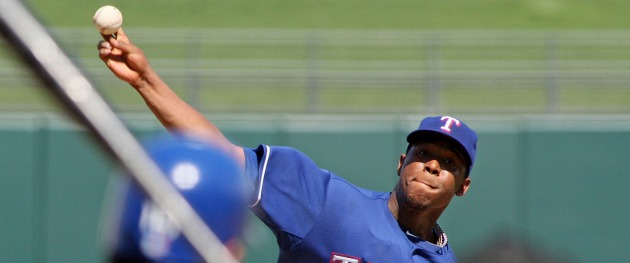 By C. Trent Rosecrans
If Neftali Feliz is starting for the Rangers, it doesn't appear the close is in camp with the defending American League champions.
"I have confidence in Jon Daniels and our scouts," manager Ron Washington told reporters, including ESPNDallas.com's Tim MacMahon on Tuesday. "If that's the case, I'm 100 percent sure they'll go out there and find somebody to close ballgames down for us."
If that's the case, the Rangers will be looking for their seventh different closer in the last seven seasons (defining "closer" as "dude with the most saves."). The last Ranger to lead the team in saves in back-to-back years was Francisco Cordero in 2004-05. Cordero has since been an All-Star for two different teams.

The Rangers' internal candidates appear to be Mark Lowe and Alexi Ogando (right). Or the team could go with a closer-by-committee until the trade deadline, also using veteran lefties Arthur Rhodes and Darren Oliver along with Lowe and Ogando. Prospect Tanner Scheppers is another (remote) possibility. The Rangers traded Frank Francisco, their closer in 2009, to the Blue Jays in exchange for Mike Napoli in the offseason.
As for trade candidates, the team could go out now, or wait until the trade deadline when more candidates would be available.
Among those available could be the Padres Heath Bell, the Mets' Francisco Rodriguez and the Orioles' Michael Gonzalez. The Blue Jays have several experienced closers on their roster, including Francisco, Jason Frasor, Octavio Dotel and Jon Rauch.
If the team waits until the trade deadline, if the Mariners David Aardsma could be available, as well as Cordero, who could be supplanted by Aroldis Chapman (or Nick Masset). Others that could be available include Kevin Gregg, J.J. Putz and Brandon Lyon.
However, Washington did tell reporters in the same sitting that he felt confident enough with the rotation as it is and Feliz in the bullpen. It also appears, the Fort Worth Star-Telegram's Jeff Wilson writes, that Washington would prefer to keep Feliz in the bullpen unless Daniels can get another closer.
For more baseball news, rumors and analysis, follow @cbssportsmlb on Twitter or subscribe to the RSS feed.