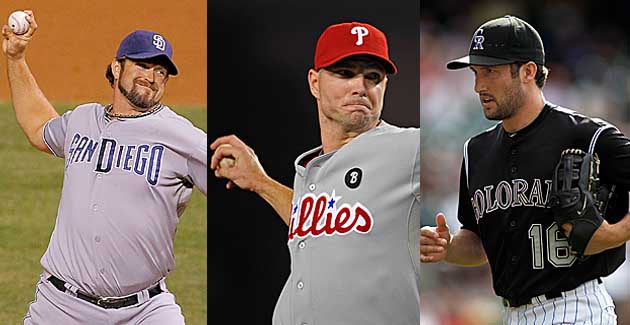 By C. Trent Rosecrans
and
Matt Snyder
It appears the first domino in closer market has fallen (at least, we're pretty sure this time), but that leaves Heath Bell and Ryan Madson as the top relievers still available. But who needs a closer? Here's a look at the closing situation for all 30 teams.
AL East
Baltimore Orioles: Kevin Gregg is still under contract -- much to the chagrin of new general manager Dan Duquette's chagrin. Gregg will make $5.8 million in 2012, not exactly ideal for a guy with a WHIP of 1.642 last season and an ERA of 4.37 while picking up 22 saves. Jim Johnson recorded nine saves and threw just 91 innings, but doesn't exactly miss a ton of bats. The Orioles could move Johnson to the rotation.
Possibilities: Gregg, Johnson, Bell, Francisco Cordero, Francisco Rodriguez, Jonathan Broxton.
Red Sox: Well, obviously Papelbon is gone. Papelbon was the Red Sox closer for the last six years, recording the final out of the 2007 World Series among other memories. Still, As untouchable as he was in his first four years as the closer (1.74 ERA and 0.917 WHIP from 2006-2009), he had a 3.43 ERA and 1.104 WHIP over the last two seasons. Daniel Bard is unhittable at times, but struggled in the last two months of the season (which certainly wasn't uncommon among Red Sox), posting a 6.95 ERA in 21 games in August and September.
Possibilities: Bard, Madson, Bell.
New York Yankees: Mariano Rivera. Enough said.
Tampa Bay Rays: The Rays let the Yankees overpay for Rafael Soriano and then picked up Kyle Farnsworth off the discard pile, signing him to a two-year, $6 million deal. In retrospect, it was genius -- Farnsworth had 25 saves with a 2.18 ERA in 2011 and the Rays will keep him another year and let someone else overpay him for 2013.
Toronto Blue Jays: Frank Francisco was the team's closer for much of 2011, but he's a free agent and the team could be looking to spend some money on a closer.
Possibilities: Madson, Bell, Cordero, Rodriguez, Casey Janssen.
AL Central
Chicago White Sox: Right-hander Sergio Santos converted 30 of 36 save opportunities, liming batters to just a .181/.282/.314 slash line and he should be in line to keep his job in 2012. If he falters, Addison Reed has a chance to take over.
Cleveland Indians: Chris Perez is on solid ground as the team's closer, picking up 35 saves in 2011.
Detroit Tigers: The Tigers picked up the $9 million option on Jose Valverde.
Kansas City Royals: The Royals picked up the $6 million option on Joakim Soria and have options for 2013 and 2014.
Minnesota Twins: The Twins declined their $12.5 million option on incumbent Joe Nathan, but have expressed interest in bringing him back. Although his overall numbers -- 4.84 ERA, 1.164 WHIP, 14 saves -- weren't too impressive, he did convert all 11 of his saves in the second half of the season. Left-hander Glen Perkins had two saves in 2011 and struck out 65 batters in 61 2/3 innings. If the team doesn't sign a free agent -- or trade for someone -- Perkins would have the best shot.
Possibilities: Nathan, Perkins, Jon Rauch, Broxton.
AL West
Los Angeles Angels: Jordan Walden recorded 32 saves as a rookie and made the All-Star team. He did blow 10 saves last season, so it wouldn't be a complete shock if the team looked for an upgrade, but it's not expected, especially with tight purse strings this winter. The team could bring in a veteran for cheap that could close if Walden falters.
Possibilities: Walden, Scott Downs, Broxton, Rauch.
Oakland Athletics: Andrew Bailey is the team's closer, but a trade is always possible with Oakland.
Seattle Mariners: Brandon League had 37 saves and a 2.79 ERA in 2011.
Texas Rangers: The Rangers could be a wild card in the free agent closer market if they decided to move Neftali Feliz to the rotation. The Rangers tried that last spring but decided to keep Feliz in the bullpen. If they bring in a big-name, that would mean they believe Feliz can make the move. If not, there's still a chance of Mike Adams taking over for Feliz. Or they could bring in a low-cost veteran to have in reserve in case Feliz does work in the rotation.
Possibilities: Mike Adams, Madson, Cordero, Rauch, Broxton.
NL East
Atlanta Braves: Craig Kimbrel. Period.
Miami Marlins: While the artist formerly known as Leo Nunez gets his name issue sorted out, the Marlins have a gaping hole at closer. The current members of their bullpen combined for four saves last season. Do the Marlins try to go with an internal option like Edward Mujica or make a splash on the free agent market (as they've been connected to several huge names already)?
Possibilities: Nunez, Mujica, Madson, Cordero, Rodriguez, Bell.
New York Mets: If they stay internally, which is entirely possible, it looks like Bobby Parnell. But he wasn't awesome by any stretch when given save chances last season. The Mets have spent big on a free agent closer before (K-Rod), so would they be gunshy in doing so again? It's possible. But it's also possible they try to land someone like Ryan Madson.
Possibilities: Parnell, Madson, Bell.
Philadelphia Phillies: Papelbon.
Washington Nationals: Drew Storen closed 43 of 48 games in 2011, his first full season in the majors. One would think that would be enough to earn him at least another year on the job, but Storen's name keeps popping up in trade rumors and the Nationals have been reportedly interested in Madson. The Nats have plenty of money, so if they wanted to ink a big-name closer and deal Storen as part of a package for a center fielder (Denard Span, perhaps?), they would be able to do so.
Possibilities: Storen, Madson, Bell, Cordero.
NL Central
Chicago Cubs: It's probably going to be Carlos Marmol again, but he better get himself in gear. Not only did he blow 10 saves, but his once-astronomical strikeout rate lowered a bit in 2011 and control continues to be a serious problem. With new brass at the helm, 2011 will likely be his last chance to get things fixed.
Cincinnati Reds: Cordero had a great four-year run with the Reds, amassing 150 saves with a 2.96 ERA, but he's a free agent now. Fireballer Aroldis Chapman is ticketed for the starting rotation and Nick Masset seems to be awfully inconsistent. The Reds don't have the money to spend in free agency, so would they make a trade for, say, Huston Street or Andrew Bailey? Seems unlikely. Either Chapman doesn't make it as a starter and sticks as closer or someone internally (23-year-old Brad Boxberger?) gets a shot. This one is totally up in the air.
Possibilities: Cordero, Chapman, Boxberger, Bailey, Street, Broxton.
Houston Astros: Mark Melancon saved 20 games with a 2.78 ERA last season. There are far bigger problems with this team to believe they'll try hard to make a change here.
Milwaukee Brewers: John Axford and his award-winning 'stache.
Pittsburgh Pirates: All-Star Joel Hanrahan nailed down the job last season.
St. Louis Cardinals: Jason Motte was never officially named closer by the stubborn Tony La Russa, but he did more than enough down the stretch and in the playoffs to earn the job for 2012, closing nine of 10 saves during the Cardinals' late run and five more in the postseason.
NL West
Arizona Diamondbacks: It will again be J.J. Putz with David Hernandez filling in if (when?) Putz falls injured.

Colorado Rockies: Street is reportedly on the trading block. If he's is dealt, look for Rafael Betancourt to take over. He collected eight saves with a 2.89 ERA and more than a strikeout per inning in 2011.
Los Angeles Dodgers: Rookie Javy Guerra came on to save 21 games in 23 chances with a 2.31 ERA and 38 strikeouts in 46 2/3 innings in 2011. That's enough to have nailed down the job for the 2011 season, one would think.
San Diego Padres: Bell is a free agent, but the Padres may just offer him arbitration, and he actually might accept it. If he does stay, the choice is obvious. If Bell leaves, there's a decent internal option in Chad Qualls. Qualls, 33, has 51 career saves. As far as free agency, if the Padres want to pay for a closer, they'll be paying for Bell.
Possibilities: Bell, Qualls.
San Francisco: The Beard.
For more baseball news, rumors and analysis, follow @eyeonbaseball on Twitter or subscribe to the RSS feed.