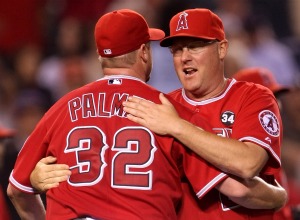 Great news today from Arizona -- Angels pitching coach Mike Butcher was told doctors removed all the cancer from his thyroid gland, he told the Orange County Register.
Butcher underwent surgery two weeks ago to remove his thyroid gland and 14 lymph nodes. On Wednesday, he was told by his doctor "they got all the cancer out," following an examination.
Butcher only missed two days of spring training workouts and will see his endocrinologist on March 8 to regulate his medication. He has been assured the cancer was caught early enough that the chance for recurrence is slim.
"My energy level is good. I feel normal, for the most part," Butcher told the newspaper. "I feel like I can go through a full day with no problem now. I can't yell as loud as I want to. I won't be singing any time soon. But, for the most part, my voice is pretty much back to normal."
While doctors told him the papillary thyroid cancer was not directly related to any particular behavior, he's not taking any chances and will no longer use chewing tobacco.
"You'll never see me with a dip -- and I can say never," Butcher said. "You'll never see me with tobacco in my mouth again. I was never a heavy dipper. But when I look back on it, that's 20 years [of occasional use]. So I guess that's heavy."
-- C. Trent Rosecrans

For more baseball news, rumors and analysis, follow @cbssportsmlb on Twitter or subscribe to the RSS feed.