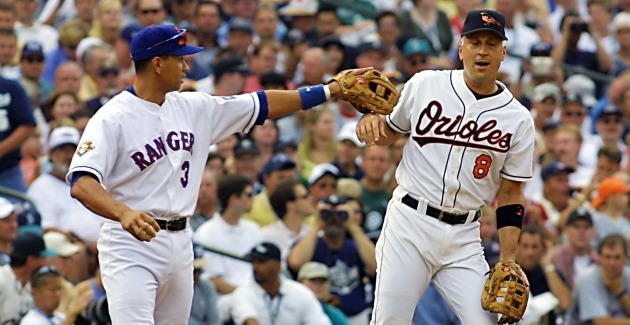 By Evan Brunell
Arizona is currently in the headlines due to hosting the 2011 All-Star Game, but 10 years ago the state made news due to the
Diamondbacks
downing the
Yankees
in a thrilling World Series that will stand as one of the all-time best.
But 2001 also boasted an All-Star Game to remember as Seattle hosted Cal Ripken, Jr.'s 19th and final (and all consecutive) All-Star Game. It should have been 20, but he wasn't elected to the game in his rookie year, when he won the Rookie of the Year Award and finished 30th in MVP voting.
Ripken, who retired after the 2001 season as baseball's Ironman with an impregnable 2,632 consecutive games played, was voted in as the starting third baseman, but moved to his old home of shortstop when starting shortstop
Alex Rodriguez
"encouraged" (read: physically pushed) Ripken to return to his home for over 14 years.
"At the time, it wasn't so meaningful because I was mad," Ripken told the
Baltimore Sun
last week. "I don't like to be surprised. I was wired, I was on a mike, and I really wanted to tell [Rodriguez], 'No, get out of here,' in a different way than I just described it to you."
Despite Ripken's aversion, the swapping of positions was a great sight to see, with a young superstar standing aside for a legend.
"It was the coolest gesture that anyone can give you," Ripken added. "When it was all said and done and I hadn't embarrassed myself out there, it was the coolest gesture ever."
But Ripken wasn't done showing us what made him such a terror for two decades and what got him elected to the Hall of Fame on his first try by a landslide. After a career in which he redefined the shortstop position and made it a power position with a career line of .276/.340/.447 and two MVP awards, Ripken gave everyone a final goodbye by being named Most Valuable Player after hitting the first pitch he saw in the game from Chan Ho Park in the third inning over the left-field fence, scoring the game's first run and becoming the oldest player to ever homer in the All-Star Game. (See below for video.)
That score held until the fifth inning, when Ivan Rodriguez singled off Mike Hampton, scoring Jason Giambi to push the AL lead to 2-0. That was whittled to 2-1 on Ryan Klesko's sacrifice fly against Mike Stanton, scoring Jeff Kent. Derek Jeter and Magglio Ordonez both delivered back-to-back solo home runs in the bottom of the sixth against Jon Lieber to provide the final score, 4-1.
Ripken's home run was recently named a finalist in MLB.com's Midsummer Classics contest, and is going up against Stan Musial's walkoff home run in the 12th inning of the 1955 game. The winner will be announced during the All-Star Game on Tuesday night.
On the eve of the All-Star Game 10 years later, the 2001 game still stands as one of the greatest.
See other All-Star Games to remember: 1941: Ted Williams blasts walkoff homer | 1949: First integrated edition | 1970's Ray Fosse/Pete Rose collision | 1999: Ted Williams steals show | 2002: The Tie
For complete All-Star Game coverage, keep up with Eye on Baseball in Phoenix
For more baseball news, rumors and analysis, follow @cbssportsmlb on Twitter or subscribe to the RSS feed.