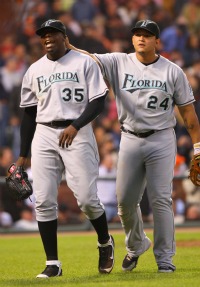 Apparently the
Marlins
are trying to exorcize the demons of a 2007 trade in one fell swoop.
They have confirmed their trade today of outfielder
Cameron Maybin
to the
Padres
, a day after they traded pitcher
Andrew Miller
to the
Red Sox
. Maybin and Miller were the two major prospects Florida got back on December 4, 2007, when they sent
Miguel Cabrera
and Dontrelle Willis to the
Tigers
.
Going into the winter meetings, there was talk the Marlins could be looking to deal one of their stars, knowing they wouldn't be able to afford to keep them in free agency. But few expected both of them to move, and nobody anticipated both of them going to the same team in one deal. And the Tigers hadn't been considered a front-line option for either.
The
Angels
came close to getting Cabrera. They hit an impasse with the Angels offering Howie Kendrick and
Jeff Mathis
, plus a choice of one of three starting pitchers:
Ervin Santana
,
Joe Saunders
and Nick Adenhart. The Marlins wanted two of the three, and the deal broke down. Think throwing in Willis might have enabled them to get both Santana and Saunders, who have both since been All-Stars and gone 83-56? We'll never know.
What the Marlins did get for Cabrera and Willis was a six-team package of prospects headlined by Detroit's top draft picks from 2005 (Maybin) and 2006 (Wright), plus Dallas Trahern,
Burke Badenhop
, Eulogio de la Cruz and Mike Rabelo.
Just for fun, let's look at what became (so far) of everyone in that blockbuster:
TO TIGERS
* IF Miguel Cabrera: He was one of the game's best hitters then, and he still is. In three seasons since the trade he has batted .314/.388/.567 with 109 home runs and 356 RBI. Led the league in homers in 2008, and in 2010 led in RBI and on-base percentage.
* LHP Dontrelle Willis: The Marlins definitely sold high on Willis. At the time of the trade he was a two-time All-Star who had won at least 10 games in each of his first five seasons, but his career quickly came off the rails from there. He's started just 27 games in the ensuing three years, going 3-9 with a 6.86 ERA. He was traded to the
Diamondbacks
, who released him after a month, and is currently in the
Giants
' minor-league system.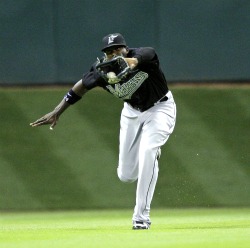 TO MARLINS
* OF Cameron Maybin (pictured): Still just 23, the supremely talented Maybin hasn't hit his stride, in part because the Marlins didn't handle him very well. Since the trade, he's got 557 plate appearances, roughly the equivalent of a full season, and a line of .257/.323/.391 with 12 homers, 43 RBI and 14 steals. He's a serviceable major-league player, but not yet the star he was projected to be.
* LHP Andrew Miller: The big lefty hasn't figured it out yet, struggling with control and consistency. He's gone 10-20 in the past three years with a 5.89 ERA and found himself out of Florida's plans this year, spending most of the season in the minors.
* RHP Dallas Trahern: Has not appeared in a major-league game. He spent 2008-09 at Triple-A, posting an ERA over 6.00 both years, and missed 2010 after Tommy John surgery.
* RHP Burke Badenhop: Has appeared in 101 games the past three years for the Marlins, including 10 starts and 25 games finished.
* RHP Eulogio de la Cruz: Pitched nine innings for the Tigers in 2008, was sold to the Padres in 2009, and released by the Padres at the end of that season. He played in Japan in 2010.
* C Mike Rabelo: Played a handful of games in Miami in 2008 and played just nine games in 2009 before being released. The Tigers brought him back on a minor-league deal at the start of 2010 and released him in July.
-- David Andriesen
For more baseball news, rumors and analysis, follow @cbssportsmlb on Twitter or subscribe to the RSS feed.