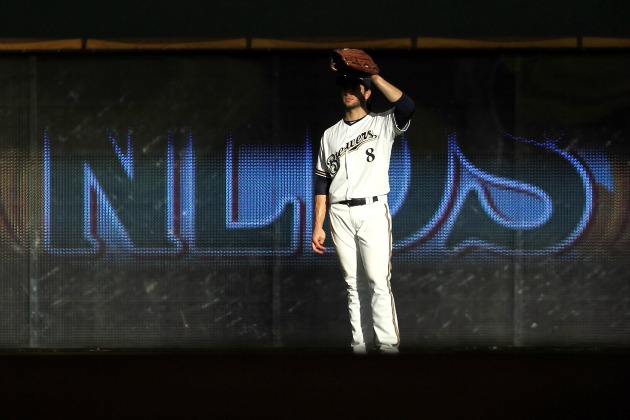 By C. Trent Rosecrans
MILWAUKEE -- Once again, the shadows at Miller Park will be an issue, as Game 1 of the NLDS begins at 4:07 p.m. ET (3:07 p.m. local), an hour before the Game 5 of the NLDS start that caused problems for left fielder Ryan Braun and just about everyone else.
"Three o'clock game here, tough start -- 4 p.m., not too bad when we had i the other day," Brewers manager Ron Roenicke said. "We had two or three innings there at the beginning, and then it was really good. But the 3 p.m., there's going to be some shadows."
Most of the playing surface will be in the shadows, but left field will be covered in sunlight for much of the game. The roof can be closed somewhat to use as a shade, but it can't cover it entirely. There's also the clear panels at Miller Park that let light in and can cover the plate with sunshine, even if the roof is closed..
"The games that we usually player here, a 1 p.m. game or a 6 p.m. or 7 p.m., it's not an issue," Roenicke said. "I think he 1 p.m., when we have that roof partially closed so they don't have the shadows between the home plate and the pitcher, I think it plays just great. So it's just the postseason. And hopefully we're in this for a long time in the postseason, and maybe they can do something then. But during the season, it's not an issue."
Game 6 of the NLCS will be held at 3 p.m. if there's a Game 7 in the ALCS.
St. Louis complained about the shadows at their own Busch Stadium because of the playoff start times as well -- plus they dealt with it in several nationally televised games during the season. The team even talked to the players' association about the issue. The way TV works, these problems are going to continue to arise, because that's what matters. Of course, they're bat for both teams -- and could be an issue on any ball hit to left during the game.
For more baseball news, rumors and analysis, follow @cbssportsmlb on Twitter or subscribe to the RSS feed.