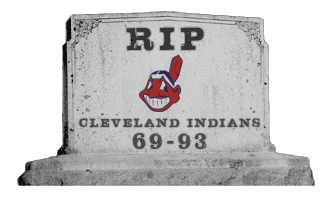 As the sports world waits for the crowning of a champion, 22 other teams are busy preparing for spring training. What went wrong for these teams, and what does 2011 hold? MLB Facts and Rumors here at CBS Sports will be answering those questions in October. Today: the last entry in the Cleveland Indians.
Poor Cleveland. They came within one win of advancing to the World Series in 2007, but since then have been caught in a web of ineffectiveness that saw Eric Wedge booted and the roster undergoing an overhaul.
It's disappointing to see a mid-market team like this come so close and have to completely scrap their entire team and start from scratch. Yes, the Indians somehow only lost 93 games with a team that should have lost much more, but the next few seasons will be about building the team back up, not contending.
WHAT WENT WRONG
You hate to see a team kicked when down, but that's exactly what happened on August 2 when the
Red Sox
's
Ryan Kalish
barrelled into Santana. The catcher ended up having to undergo knee surgery to repair his LCL. A shame given Santana (pictured, below right) is perhaps the best young catcher in the game with a .260/.401/.467 line in 192 plate appearances. He became the first Indians player since 1997 to make his big-league debut batting third. That's how good this dude is.
Meanwhile, first baseman
Matt LaPorta
, acquired from Milwaukee in the
CC Sabathia
trade, flailed in his extended shot of playing time. LaPorta is the team's future when it comes to a power bat, but the 25-year-old just couldn't do anything in 2010. He finished with a .221/.306/.362 line and 12 home runs in 425 PA and time is fast running out for the slugger. He'll get another shot in the bigs in 2011, but it's time for him to do what he does so well in the minors: mash.
Lastly,
Grady Sizemore
, one of the more exciting five-tool outfielders in the game, hit rock bottom. The 27-year-old cranked 33 home runs and bashed to the tune of a .268/.374/.502 line in 745 PA in 2008, but missed the end of 2009 with left elbow surgery. His return consisted of 140 trips to the plate and an unsightly .211/.271/.289 line before having surgery on his left knee for a microfracture. Can he ever regain his top form? Probably not.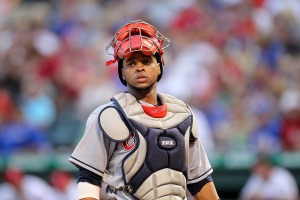 WHAT WENT RIGHT
The Indians did have
something
go right for them with the emergence of relief pitcher
Chris Perez
. Perez, acquired from the
Cardinals
for
Mark DeRosa
in 2009, grabbed 23 saves and wrested the closer's role away from
Kerry Wood
while posting a 1.71 ERA. That's above his head as evidenced by a 4.30 xFIP, but he should still turn into a quality closer. Unfortunately for Cleveland, Perez may price himself out of the team's range by the time the club is ready to contend again. Fortunately, however, the Indians should get a nice return if and when they deal Perez.
Speaking of Kerry Wood, the Indians did what so few other non-contending teams did with their veterans who weren't going to return: they got rid of them. Wood went to the
Yankees
and flourished as a setup man while the Indians came away with some money recouped. The club also dealt away
Austin Kearns
(also to the Yankees) and
Russell Branyan
(
Mariners
), freeing up playing time for Perez, outfielder
Michael Brantley
and
Shelley Duncan
.
Fausto Carmona
also returned from a two-year absence as an effective starting pitcher to post a 3.77 ERA in 210 innings. The 26-year-old is locked up for years and incredibly cheap as well, which has made him very in demand for other teams. Cleveland can opt to either get a nice haul in return for Carmona or have him head up the rotation as the club rebuilds. Either way, the team has a top-flight starter for cheap.
HELP ON THE WAY
The Indians graduated plenty of players to the bigs in 2010 that should have major impacts the rest of the way, including Santana, SP
Mitch Talbot
(acquired from
Rays
), reliever,
Frank Herrmann
and 2B
Jason Donald
. But the team needs so much more.
Fortunately, the team is rather deep in prospects remaining. Those that could help in the year 2011 include Nick Hagadone, acquired from Boston in the
Victor Martinez
deal. Hagadone struggled as a starter but could morph into a dominant reliever. Meanwhile, Nick Weglarz represents Cleveland's new hope as a power hitter and should debut at some point in 2011 and Jason Kipnis could wrap up the second base job for years by the end of the season.
EXPECTATIONS FOR 2011
The Indians are still in a rebuilding phase. While the team has an intriguing number of bats, they are still too young and inconsistent, while the pitching remains far off. 90-plus losses is all but certain.
SUGGESTIONS FOR 2011
The Indians figure to go after a first baseman to pair with LaPorta, a starting third baseman, and perhaps even an outfielder although Weglarz could be handed the job in spring training.
Tackling in reverse order, the Indians should stay pat and go with an outfield of
Trevor Crowe
-Michael Brantley-Shin-Soo Choo and filter in Weglarz and Sizemore when the two are deemed ready.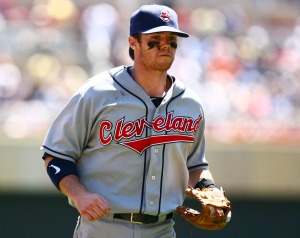 While third base could be permanently occupied by Jason Donald (pictured, left) or
Luis Valbuena
once Kipnis debuts, the team needs another year of protection.
Adam Kennedy
, who resurrected his career with the
Nationals
, could be that person. Kennedy can play around the infield and would collect enough at-bats to be worth bringing in while not stunting the development of Donald, Valbuena or
Asdrubal Cabrera
.
As for first base, the Indians need someone who can platoon with Matt LaPorta, but not send LaPorta to the bench. An ability to play the outfield is a plus as well, and the answer is already on the team in Shelley Duncan. Bringing Russell Branyan back isn't a terrible idea, but the team shouldn't spend much time looking for options as a backup first baseman.
Lastly, the Indians need to bring in a veteran starting pitcher who can soak up innings and mentor the young pitchers. Picking up ex-Indian Kevin Millwod could work, as well as
Justin Duchscherer
or
Aaron Harang
.
2011 PREDICTION
It's going to be more of the same for the Indians next season, and the team needs to find a way to develop an impact pitcher rather than the back-end types the team has proven especially adept in producing.
Check out the other R.I.P. reports here.
-- Evan Brunell
For more baseball news, rumors and analysis, follow @cbssportsmlb on Twitter or subscribe to the RSS feed .