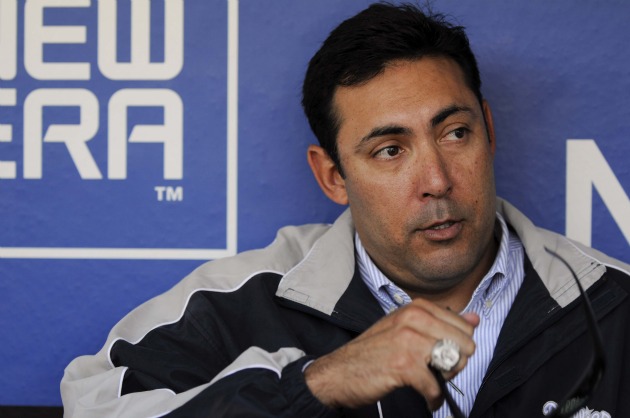 By Evan Brunell
Now that Charlie Manuel is in the books with a two-year extension, the Phillies are turning to Ruben Amaro, the GM that has steered the club to two consecutive playoff berths after replacing Pat Gillick. Philly.com reports that Amaro's own extension is "lacking just the finishing touches."
That begs the question: what has been Amaro's best and worst moves to date? For all of the machinations that Amaro has done -- some of which were head-scratching -- it's impressive that there were a litany of candidates for Amaro's best moves, but aside from one painfully obvious move, none of his worst moves are truly terrible.
3 UP
1. Welcome to Philadelphia, Cliff Lee! (And welcome back.)
At the trade deadline of 2009, Ruben Amaro pulled off a trade that cemented Philadelphia as a team to be feared. Lacking a clear ace, Lee predictably became a monster in the NL and helped lead Philadelphia to a second straight NL pennant. While Lee would be traded in the offseason (we'll get back to this), the impact he had on the club was immeasurable.
Even better is that Ben Francisco came along for the ride and provided an excellent bat off the bench as backup outfielder -- and now may be poised to open the year as the starting right fielder after a hot spring. In fact. Francisco may make this deal look even better if and when he finally settles in as a full-time player. Don't forget that he received a ton of playing time in Cleveland and showed he was capable of being a solid starter.
All the club gave up was Carlos Carrasco, Lou Marson, Jason Knapp and Jason Donald. Carrasco looks like a fungible back-of-the-rotation pitcher while Marson shows no aptitude for hitting and figures to have a lengthy career as a backup catcher -- not a player to miss. Donald, meanwhile, has been getting all the playing time he can handle and doesn't look any better than a second-division starter best used as a utility player. Knapp could be the player that pays the deal off for Cleveland, but even he's in doubt with his checkered injury history.
Also counted in this category is bringing Lee back to town. While trading Lee to the Mariners ended up being a mistake, every ounce of credit is deserved by Amaro for being unafraid to tactically admit a mistake. After claiming Lee simply wanted too much to resign, they bounced him to Seattle and then opened the checkbook to bring him back and got a steal by convincing Lee to ink a five-year deal. While the average annual value of the deal is higher as a result (with a total value of $120 million), the Phillies did very well to only lock themselves into five years.
2. What's up, Doc?
Amaro wasn't done spinning blockbuster deals for starting pitchers, as he would bring in Roy Halladay five months later to be the new anchor of the team. All Halladay did in his first NL season was toss a perfect game against the Marlins and stifle the Reds during Game 1 of the NLDS with a no-hitter. He nailed down a Cy Young Award with a 2.44 ERA in 250 2/3 innings, posting a Lee-ian 7.30 BB/K ratio. In addition, Halladay did so while agreeing to a three-year, $60 million pact with a fourth-year option. Philadelphia had told Halladay they did not want to go beyond three guaranteed years, something they clearly changed their mind on with Lee, but regardless, they locked Doc up to a sweetheart of a deal.
So why does this rank below Lee? Simple: This time around, Amaro gave up a pretty decent package to snag Halladay. Kyle Drabek has already made his major-league debut and there is already talk of Drabek hitting 200 innings pitched in his first full season once 2011 rolls around. You can't project Drabek to be another Halladay, but the Jays did well to get a replacement for the top of the rotation. They also snagged outfielder Michael Taylor who was sent to Oakland for Brett Wallace. While Taylor bombed in Triple-A for the A's, he still remains a solid prospect worth watching. Wallace would later be dealt to Houston for center fielder Anthony Gose, a player the Jays had tried to get included in the Halladay deal that Amaro shipped away in the Roy Oswalt trade. Lastly, Toronto netted Travis D'Arnaud, who ranked No. 61 on CBSSports.com's Top 100 Prospects list and could be Toronto's catcher for a very long time.
But make no mistake about it: the Halladay deal was fantastic for Philadelphia, especially because Amaro clearly recognized the window of opportunity for Philadelphia to win was now, with well-established players capable of winning a World Series. Sure, these players Amaro dealt away could have helped the Phillies extend their winning window, but there are no guarantees of the future, plus Philadelphia still improbably has a strong farm system after decimating it in the Lee, Halladay and Oswalt trades.
3. Signing Chan-Ho Park
Yes, I couldn't think up a clever title for this one. But signing Park to a one-year, $2.5 million deal ended up paying off big time when Park was finally convinced to vacate the rotation in favor of the bullpen. By the time the South Korean arrived in Philadelphia, he had been a top starter for the Dodgers, a massive bust who made millions of dollars in Texas, rebuilt his value in San Diego, missed an entire year as a member of the Mets, then returned to L.A. and turned heads with his production out of the bullpen.
However, Park still wanted to start. Amaro granted his wish, but after seven disastrous starts in which Park put up a 7.29 ERA, he was exiled to the bullpen where he instantly became a weapon. In 50 relief innings, Park went on to whiff 52 and walk 16 while posting a 2.52 ERA. Unfortunately, that would be Park's only (so far) season in Philly as he insisted on another crack at the rotation. He would eventually go to the Yankees where he experienced bad luck, then returned to his strong self as a reliever in the nether regions known as Pittsburgh. Park will pitch in Japan for the 2011 season where, presumably, he will get his wish to start.
It may have just been one year, but the production Amaro received out of Park was invaluable in the march to the NL pennant. Not all successful moves are of the blockbuster variety. In many cases, it's the smaller, unheralded pieces that end up being crucial.
3 DOWN
1. He did WHAT?
Yes, Ruben Amaro signed Ryan Howard to a massive five-year, $125 million deal in April, virtually a full two years before the deal will kick in. Who thought this was a good idea?
Howard was a fantastic player before 2010, but was entering his age-30 year. As someone who had a late start to his career and doesn't appear that he can hold up well thanks to old-people skills (tied up in walks and power), any slippage of Howard's power reduces his value significantly.
And that's what happened in 2010, as he hit "just" 31 home runs and 23 doubles. But hey, five triples. Howard will begin his massive deal at age 32, and it's hard to fathom anyone giving him five years and $125 million as a 32-year-old, even if he rebounds with a strong year. In addition, it's not as if Philadelphia got a discount. They could have easily waited a year and then locked Howard into the deal. This was just completely unnecessary and will unfortunately become known as a disastrous deal.
2. Driving off a Cliff (Lee)
Yes, Cliff Lee is Amaro's 1 and 1A best moves of his tenure, but trading Lee away continues to be a head-scratcher, doubly so given Lee's return as a free agent. Of course, hindsight is 20/20, so what was the issue at the time?
Simply put, Lee was expected to command a huge extension and the overtures that Amaro/Philadelphia made were rebuffed. It doesn't appear that any thought was given to a deal that eventually ended up bringing Lee back, but that's purely speculation. What we do know is that the price Lee was thought to be commanding influenced the trade. In addition, Amaro wanted to restock the farm system after the initial Lee and Halladay deal.
But that's where he went off course, agreeing to import Phillippe Aumont, Tyson Gillies and J.C. Ramirez for Lee. And simply put, none of these players appear to have the ceiling of the prospects Philly surrendured to get Lee. Aumont is a reliever who may never reach the majors, Gillies is a speedster with a questionable bat and questionable off-field issues and Ramirez is a mildly intriguing prospect. This is one trade that, from the day it was consummated (not unlike the Howard contract) was panned, and not just because of the concept behind the deal, but the return as well.
3. Jumping the gun on Ibanez
When Raul Ibanez was inked to a three-year, $31.5 million pact the day after Christmas of 2008, many didn't quite understand the deal, but it wasn't thought to be terrible. That changed quickly, as that was the offseason that the market corrected itself and many players were frozen out until well into the new year. If Ibanez had waited just a couple more weeks, he would have easily seen his market drop to no more than two guaranteed years, and it's unlikely he could have commanded $10 million per year.
Ibanez kicked off 2009 with an absolutely silly .309/.367/.649 mark in 289 plate appearances, but upon returning from a left groin strain, it was an entirely different year as Ibanez finished the drive with a .232/.326/.448 line, but he ended up with a ring. Last season, Ibanez continued where he left 2009 off, finishing with a .275/.349/.444 mark and 16 home runs -- lowest since 2004, when he also had 16, and also his lowest as a full-time starter. Couple that with his defense and inability to hit left-handed pitchers and Ibanez isn't quite living up to his deal as he enters the final year.
However, this is one deal that stood up better than most expected when it was signed. And if this is only Amaro's third worst move, he's doing fairly well. But that Howard contract...
For more baseball news, rumors and analysis, follow @cbssportsmlb on Twitter or subscribe to the RSS feed.