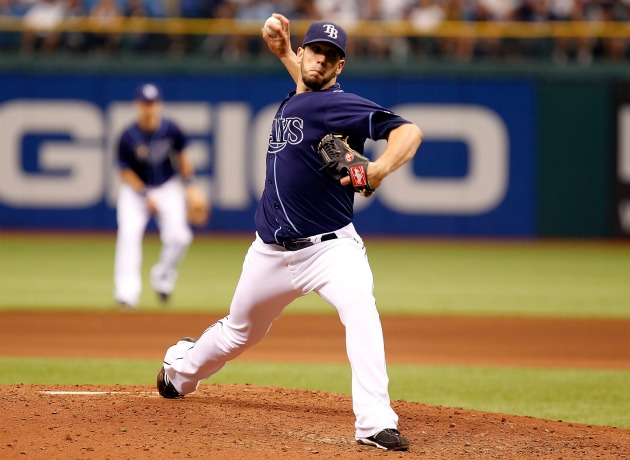 By Evan Brunell
3 UP
James Shields, Rays -- Shields delivered a dominating performance and may be on the way back towards being an ace. However, Shields is an inconsistent player, so we'll have to see how he performs more. Still, he twirled a beautiful start against the Angels, going eight strong with an eyebrow-raising 12 strikeouts against one walk, six hits and an earned run. He combined to strike out the first three batters of the game six times, holding them to 1 for 13 with a walk. This game pushes Shields' ERA down to 2.14.
Roy Halladay, Phillies -- What else do you expect? Halladay rivaled Shields for best pitching performance as he pitched a complete game seven-hitter, allowing a walk and punching eight out. The Mets -- especially Jason Bay in an 0-for-4 night with three whiffs -- were helpless as Philly squeaked out a 2-1 victory. That offense is starting to run a little cold in Philadelphia, who were lifted by reserve outfielder John Mayberry Jr.'s first home run of the year plus a sac fly by Placido Polanco. Carlos Beltran did have two hits, continuing a nice return from knee problems.
Michael Brantley, Indians -- The league's best hitting performance that also directly won the game for Cleveland by Brantley, who sparked the team to victory by first tying the game at two-all in the sixth by ripping a solo home run and then scoring the winning run on an Orlando Cabrera single. All in all, the leadoff man who was playing center as Grady Sizemore took a breather, stepped up to the plate with a 3-for-6 night (so did Cabrera), scoring those two runs and driving in himself on the homer to edge the Tigers 3-2. Top Indians pitching prospect Alex White got throw his start by throwing six innings and allowing just two runs despite coughing up four walks and six hits -- two home runs -- and whiffing four.
3 DOWN
Matt Thornton, White Sox -- Ozzie Guillen must be furious. In his house, that is, as he was suspended two games for his comments about the umpiring earlier in the week and then tweeting about it. Matt Thornton was called in by bench coach Joey Cora to keep the ChiSox in the game as they trailed 2-1 in the eighth. Phil Humber had a two-run, seven-inning start, calling into question whether he should be demoted when Jake Peavy returns. Against the Orioles, Thornton went as such: single, stolen base, strikeout plus Pierzynski error allowing a run to score and batter to reach, single, wild pitch, walk, infield RBI single, sacrifice fly, and -- that was it for Thornton as Jerry Gray sandwiched two outs around a hit by pitch. Not a good day at the park for Chicago's closer at the beginning of the season who has already lost his job.
Red Sox offense -- What can the Red Sox offense do for you? Well, it can mount a seven-hit attack on Doug Fister, walk six times, and ... leave 11 men on base in a 2-0 defeat. Awesome. David Ortiz want 0-for-4 with two whiffs, coming up in a key situation that could have changed the complexion of the game. The Red Sox left the bases loaded in the first (yes, really) and fourth, with Jacoby Ellsbury ending the threat in the fourth by getting doubled off second in a mistake. Oh, and no Mariners game is complete without a Milton Bradley ejection. The mercurial outfielder delivered a RBI double in the second to send Seattle up 1-0 then argued with the second base umpire about a play in which Miguel Olivo grounded to first and got the heave-ho. Skipper Eric Wedge was in the process of leaving the field after mounting his own complaint, but he didn't get tossed.
Kyle Drabek, Blue Jays -- Drabek got a little lesson in humility Saturday night, lasting just 2 1/3 innings. Drabek has been a bit up and down in his first full major-league season, but was still doing decently enough. Now his ERA rests at 4.45 after giving up five runs on seven hits, four walks and four strikeouts against the Yankees. He was dinked to death, but those runs count and can be even more deflating than a single big blow. You can attribute giving up a grand slam to one misplaced pitch, but you can't justify any of your stuff when everything is being rifled. Oddly enough, no Yank had more than one hit, but everyone did sans Derek Jeter (all together: when will he be demoted to No. 8 in the lineup? -- hey, look a reunion of the top two in the order from last season... at the bottom).
For more baseball news, rumors and analysis, follow @cbssportsmlb on Twitter or subscribe to the RSS feed.