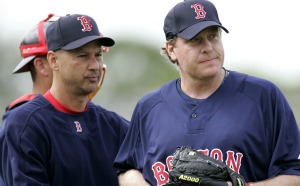 By Evan Brunell

Curt Schilling
told WEEI
Tuesday morning and said he doesn't think the
Red Sox
will make the playoffs, adding that there has been a significant momentum shift that now falls in the
Rays
' favor.
"It's kind of crashing down around them," Schilling added. "Somebody asked me last night about them making the playoffs and I said, 'You know how I feel about these guys, you know how I feel about [manager Terry Francona] … I don't want them to make the playoffs because I don't think they have a chance to go anywhere.'"
Well, Francona
has a response
to Schilling, even though he did not hear his former ace's (photo: 2007) comments until being told.
"I don't give a [expletive]," he said.
Francona didn't have much else to add, but Schilling did. He took to Twitter to deflect criticism, saying, "What I think, not what I want. I want them to get in and win it all, if they need someone like me motivating that's an entirely diff chat."
Francona also addressed David Ortiz's remarks that it was time to convert Alfredo Aceves to a starter. Aceves has served as a long reliever for the Red Sox the entire year and has been incredibly successful in doing so. As the Red Sox rotation stands in tatters, the call for Aceves to make some starts is growing.
"Believe it or not, I haven't read a paper," said Francona. "There's so many [media members] here that if you ask questions and someone gives an answer, I'll be answering them all day. For Schill and for David, I'd rather just do the game."
For more baseball news, rumors and analysis, follow @EyeonBaseball on Twitter or subscribe to the RSS feed.