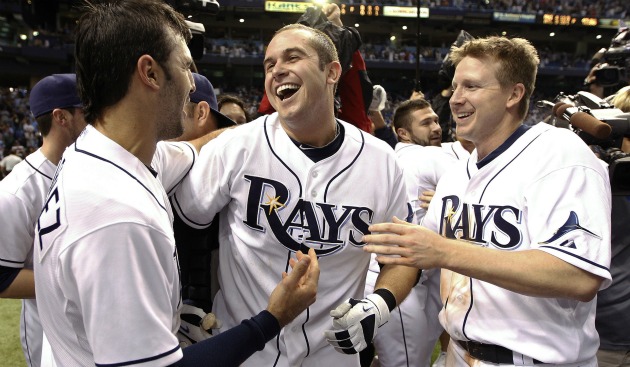 By C. Trent Rosecrans
Evan Longoria's solo homer off of the Yankees' Scott Proctor capped what was perhaps the most exciting final day of the regular season in baseball history, and solidified two epic collapses by the Red Sox and the Braves.
Longoria's homer gave Tampa Bay an 8-7 victory just minutes after the Orioles' Robert Andino's liner scored the winning run in Baltimore to seal a 4-3 come-from-behind victory over the Red Sox. Longoria was in the on-deck circle in St. Petersburg, Fla., when the Red Sox score was announced. Just three minutes later, Longoria hit his second homer of the game.
It was just another comeback for the Rays, who were behind in the wild card race by as many as nine games and then were down 7-0 in the eighth inning of Wednesday's game against the Yankees. Tampa Bay scored six in the eighth inning, including three on Longoria's first homer of the night. Dan Johnson hit a two-out, pinch-hit homer in the ninth to tie the game.
While the Rays were within a strike of losing, the Red Sox were within a strike of winning.
Jonathan Papelbon, who had never surrendered an earned run at Camden Yards until Tuesday, struck out the first two batters he faced in the ninth inning trying to protect a 3-2 lead. But Chris Davis doubled and then Nolan Reimold hit a ground-rule double to tie the game and then Andino hit a sinking liner to left that Carl Crawford -- the former Ray -- couldn't catch, scoring Reimold.
Three minutes later, Longoria ended Boston's season, and completed the Red Sox collapse.
The Rays will now head to Texas to face the Rangers in the first round of ALDS on Friday, while the Yankees will host the Tigers.
For more baseball news, rumors and analysis, follow @eyeonbaseball on Twitter or subscribe to the RSS feed.