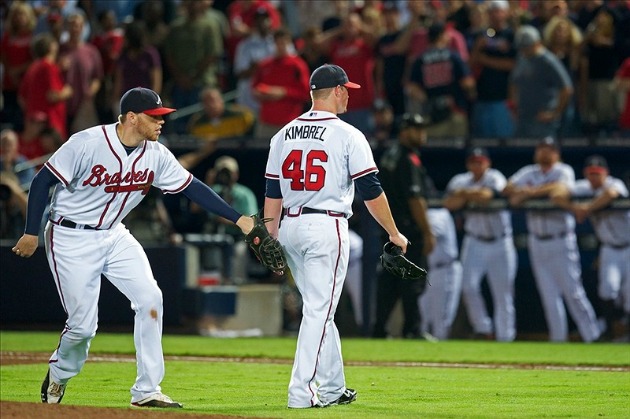 By C. Trent Rosecrans
Craig Kimbrel may end up being the National League Rookie of the Year, but the lasting image of the Braves' closer in 2011 may be his blown save in the final game of the season that capped an epic collapse by the Atlanta in the NL wild-card race, as Atlanta lost 4-3 to the Phillies in 13 innings on Wednesday. The loss, coupled with the Cardinals' 8-0 victory in Houston, has given the Cardinals the National League wild card.
The Braves went 9-18 in September, losing their last five games and nine of their last 12, but none as painful as Wednesday's collapse.
Atlanta led 3-1 in the third and held onto the lead until the ninth, when Kimbrel blew his eighth save of the year. Kimbrel allowed a hit and three walks, giving up the tying run on a sacrifice fly by Chase Utley. Kris Medlen got the Braves into extra innings, but Scott Linebrink gave up two hits and walked a batter, with Brian Schneider scoring on Hunter Pence's infield single in the 13th.
Meanwhile, St. Louis had little drama on Wednesday, scoring five runs in the first inning off of Astros starter Brett Myers and cruising to victory. The win was the Cardinals' fourth in their last five games and 16th in the month of September. They also won 23 of their final 32 games. The Cardinals trailed the Braves by 8.5 games after losing on Sept. 2, but were able to make up the difference over the last month.
Chris Carpenter threw a two-hit shutout for the Cardinals, who will face the Phillies in the National League Divisional Series, starting Saturday.
For more baseball news, rumors and analysis, follow @eyeonbaseball on Twitter or subscribe to the RSS feed.