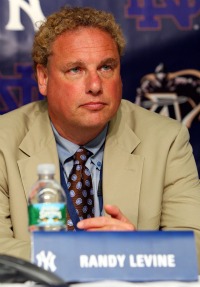 What's with all the hating on the
Rangers
this week? Or more specifically, what's with everyone overreacting to comments regarding the Rangers?
Lance Berkman
made the mistake of
being honest
about not signing with the Rangers because he thinks they're going to take a step back next year, a perfectly reasonable opinion that nonetheless got
C.J. Wilson
's dander up. Now
Yankees
president Randy Levine is unloading on Rangers owner Chuck Greenberg after an innocuous comment Greenberg made.
Asked about the pursuit of
Cliff Lee
, Greenberg said he thought the Rangers extended negotiations by visiting the pitcher's Arkansas home three times. He said he had the feeling Lee was close to signing with the Yankees, but the Rangers keeping the door open so long allowed the
Phillies
to sneak in and play the spoiler.
"I think if we wouldn't have gone to Arkansas that last time, I think he was going to sign with the Yankees,"
Greenberg said
at a Rangers fan event last Sunday. "We pried the door open a little bit to give ourselves another opportunity. And ultimately the Phillies were able to take advantage of that opportunity that we created."
Call me crazy, but I don't see a shot at the Yankees in there. Greenberg wasn't expressing pleasure that the Yankees lost out, just making an observation on how the events seemed to play out. But Levine took the opportunity to insult Greenberg and the Rangers.
"I think Chuck is delusional," Levine told the
New York Post
on Friday. "He's been in the game a few minutes, yet he seems to know what everybody's thoughts are.
"If he wants to impress us, he can do that by keeping the Rangers off welfare. Let's see if they can be revenue sharing payers instead of recipients for three years in a row without getting money from Major League Baseball."
Talk about overreacting. Not only do Levine's comments look like sour grapes toward the team that knocked the Yankees out of the playoffs, they're condescending toward every team that benefits from revenue sharing. I'm all in favor of stirring the media pot, but a "no comment" would have served Levine a lot better there. I wouldn't be surprised if he gets a call from Bud Selig telling him the same thing.
-- David Andriesen
For more baseball news, rumors and analysis, follow @cbssportsmlb on Twitter or subscribe to the RSS feed.