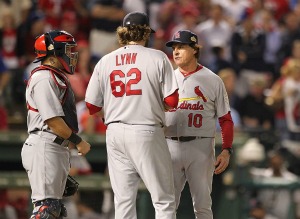 By C. Trent Rosecrans
The visitor's bullpen at Rangers Ballpark in Arlington will be reconfigured next season to run parallel to the left center field fence, the same as the Rangers' bullpen, as opposed to perpendicular as it currently stands.
The noise in the visitor's dugout, of course, was a major sticking point in Game 5 of the World Series when Cardinals bullpen coach Derek Lilliquist couldn't hear manager Tony La Russa's instructions to get closer Jason Motte warmed up in the eighth inning of the Cardinals' loss.
CBSSports.com senior writer Danny Knobler wrote after the incident that one American League coach told him he understood how the mixup could happen, noting the bullpen at Rangers ballpark is hidden and there's no TV in the dugout showing who is warming up, as there is in other bullpens hidden from the dugout, like Cleveland's Progressive Field.
The team announced other changes, including new restaurants and a kids zone, as well as replacing some bleacher seats with individual seats.
For more baseball news, rumors and analysis, follow @eyeonbaseball on Twitter or subscribe to the RSS feed.