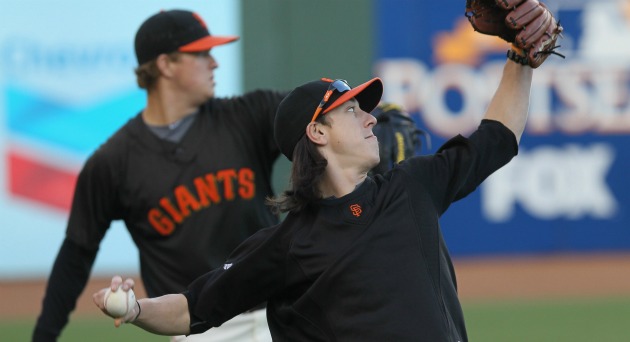 By C. Trent Rosecrans
Giants general manager Brian Sabean has been telling reporters he'd like to lock up right-hander Tim Lincecum, but he's apparently lost the number for Rick Thurman, Lincecum's agent.
Thurman tells the San Francisco Chronicle's Henry Schulman that Sabean hasn't asked him about the possibility for a multiyear deal. Lincecum is under the Giants control through the 2013 season. The team bought out his first two years of arbitration (Lincecum was a Super 2, so he had an extra year) with a two-year, $23 million deal before the 2010 season.
"My only expectation is that we'll talk about a contract for 2012," Thurman told Schulman.
Thurman added that extension talks would usually come a little later in the offseason calendar, "before the winter meetings." The winter meetings start Dec. 5 in Dallas.
Lincecum is one of 13 arbitration-eligible players on the Giants roster. In 2010, the Giants and Lincecum were set to go to arbitration before reaching the two-year deal.
Matt Cain is already under contract for 2012, but would be a free agent after the season and the Giants want to have both Lincecum and Cain locked up before either can hit the open market in free agency.
"We want to keep the pitchers. We want to keep these two," Giants CEO Larry Baer told Schulman. "We believe there's a desire on their part to remain on the Giants. That gives me a degree of confidence."
For more baseball news, rumors and analysis, follow @eyeonbaseball on Twitter or subscribe to the RSS feed.