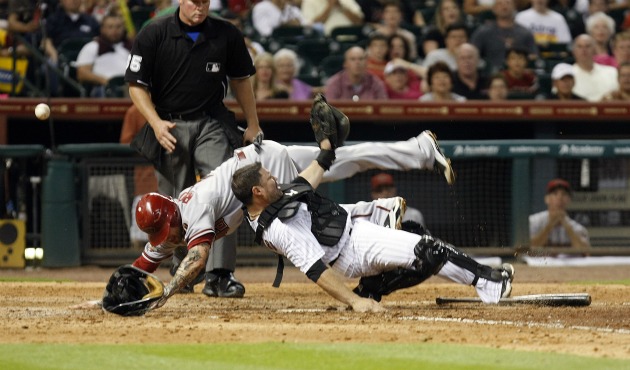 By C. Trent Rosecrans
For those wanting a rules change in the wake of Buster Posey's injury, there's more ammunition after Astros catcher Humberto Quintero was helped off the field after a collision with Arizona third baseman Ryan Roberts in the seventh inning of Friday's game in Houston.

Quintero has been placed on the 15-day disabled list with a high ankle sprain, according to MoiseKapenda Bower of FoxSportsHouston.com on Twitter. Houston called up Robinson Cancel to take his place.

See the play here.
With bases loaded and one out, Chris Young hit a slow roller between the third-base line and the mound. Astros pitcher Wilton Lopez fielded the ball and made a quick throw to Quintero, but it bounced off of Roberts, who then plowed over Quintero.
Quintero stumbled a little on Young's bat and had his left knee on the ground when Roberts made contact. He immediately grabbed that knee.
Two runs scored -- which were the tying and go-ahead run in the team's 7-6 victory -- and Quintero had to be helped off the field by two members of the team's medical staff.
One big difference between tonight's play and Posey's was that Quintero had the plate completely blocked.
Diamondbacks color commentator Mark Grace said, "Oh, no, not again," immediately after the play.

According to MLB.com, Quintero suffered a sprained left ankle, which is good news that it isn't more severe -- because it looked a heck of a lot worse.
For more baseball news, rumors and analysis, follow @cbssportsmlb on Twitter or subscribe to the RSS feed.