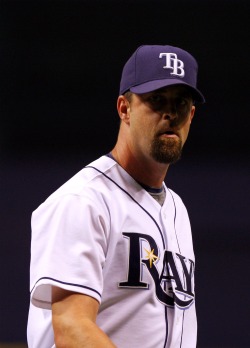 After 18 seasons, one missed year due to injury, 10 teams and a 41st birthday, Russ Springer is now hanging up his cleats, opting against pitching at age 42.
"For the first time in my career, it feels right," the right-hander says of retirement to the Alexandria Town Talk, after already attempting to retire prior to the 2004 season. He changed his mind once the Astros called and spent three years with the team, earning a trip to the World Series in 2005.
Springer has two interesting stories in his career, neither of which include his two trips to the World Series. Springer appeared in the 1999 World Series with the Braves but lost, just like the Astros would fall to the White Sox six years later. The first is that he has worn the same glove every year since 1993, his second year in the bigs.
"I've had players ask me how much pine tar I had in this glove," he said, displaying the dark interior of the glove. "I'd tell them, 'That's not pine tar; that's a lot of years of blood, sweat and tears.'
Springer was wearing the glove on May 14, 2006 when he jumped into the national media for perhaps the first and only time in his career. Barry Bonds was at bat and pitchers everywhere were fearful of being a trivia answer to who gave up the 714th home run of Bonds' career, which would tie him with Babe Ruth. Springer drilled Bonds in the back and was ejected, fined and suspended for four games.
"I hate that I play 21 years developing a reputation and something like that happens, and it's what a lot of people connect with your name," he said. "It wasn't what everybody says it was. It wasn't a vendetta. I went back and looked at the tape afterwards, and I agree, it looks bad, but it wasn't what it looked like. The reasoning behind it stays in the locker room among teammates."
Including his previous stint with the Astros in 1997, he spent the most years with Houston in a nomadic career that started with the Yankees in 2002, then was shipped to the Angels in a package for Jim Abbot.
A few years later, Springer was sent to the Phillies as a player to be named later, but was released after the season by the Phillies. That's when he locked into his first year with Houston, then was drafted by the Diamondbacks in the expansion draft with pick No. 61. His time in Arizona was short-lived as he was dealt in late June to the Braves for Alan Embree. He returned to the Diamondbacks via free agency after the year and spent two seasons with them before a shoulder injury knocked out his 2002 season and threatened to end his career.
And yet, he'd go on to pitch eight more years, hooking up with the Cardinals for two years, splitting 2009 between the Athletics and Rays and joining the Reds for the second half of 2010 to be able to pitch for the team he grew up rooting for (albeit pitching just 1 2/3 innings before a back injury ended his final tour in the majors).
18 seasons is a long time, so how does Springer know it's time to hang up the cleats?
"When I thought I was going to retire [after 2009], I had a desire to go to the gym,". he said. "This year, I've had no pull towards going to the gym. I'm totally content to be with the family. There comes a time when you can ask only so much of your body physically, and you've got to stop beating it up."
While he never grabbed the attention of any fan base, Springer was quietly a durable middle reliever who just kept up putting numbers. His career 4.52 ERA is a bit skewed to the first four years of his career as he struggled to stick in the majors. From 1999-2010, his career ERA was 4.07, and he ripped off four out of five seasons (2004-08) with an ERA under 4.00, including three with an ERA under 3.
"I had some good seasons," he says. "I was never an All-Star, but I grinded out a career. This is a working man's area, and I think the people around here [Louisiana] recognize that. That's why this has always been home for me. A week after the season's over, I'm back here eating a corn dog at the Grant One Stop."
-- Evan Brunell
For more baseball news, rumors and analysis, follow @cbssportsmlb on Twitter or subscribe to the RSS feed.