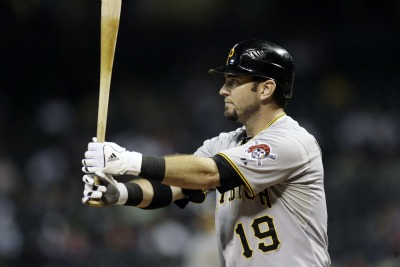 By Evan Brunell
The Angels are on the hunt for a left-handed hitter, as ESPN's Buster Olney reports.
While the Angels have plenty of switch-hitters on its projected 13-player squad with six, only one bats exclusively from the left side in DH Bobby Abreu. However, three of the switch-hitters are projected to be on the bench, including catching prospect Hank Conger although the Angels could opt to go with right-handed hitting Bobby Wilson to back up Jeff Mathis. An additional two switch-hitters don't provide much thump in the lineup with Erick Aybar and Alberto Callaspo, leaving Kendry Morales the only switch-hitter who is an offensive threat. (Check out the Angels' depth chart.)
No wonder the team would like to expand its options from the left side. But what position fits?
Catcher is one option if the Angels are interested in bringing in someone from outside, but given how much emphasis skipper Mike Scioscia places on catching and the battery of tests he runs these catchers through early on in spring training, it's unlikely the club will import an outside presence, especially with a strong prospect in Conger on hand along with Scioscia favorite Mathis and yet another backup candidate in Wilson.
The club appears set in the infield. While they wouldn't mind upgrading from Howie Kendrick at second base or Alberto Callaspo at third, that would require a larger deal, a move most teams wouldn't be prepared to do at the moment -- and there aren't many options there. It's unlikely L.A. would import a backup to steal playing time from Macier Izturis. They could go with two infielders and bump Mark Trumbo down to Triple-A, which is a distinct possibility if they can find a left-hander who would provide power off the bench and an ability to play first and a little outfield like Trumbo.
Where the most likely move will come from is in the outfield, where switch-hitter Reggie Willits is far from guaranteed as the fourth outfielder. Willits has spent chunks of the last five seasons with the Halos, including a 518-plate appearance stint in 2007 but hasn't shown any aptitude with the bat and is easily replaceable -- and there's no obvious option behind Willits.
So who could the Angels go after? For starters, let's look at left-handed outfielders currently on the free agent market.
That's pretty much it. The 32-year-old split last season between the Pirates and Diamondbacks. Most of his playing time came in Pittsburgh where he flopped big time although his bat bounced back in Arizona. Church (pictured) has a career .264/.336/.431 mark in 2,128 PA and may be an upgrade over Willits, although that's far from a sure thing especially when you look at defense and speed. One thing in Church's favor is his platoon splits against right-handers, posting up a .272/.345/.451 mark against righties in 1,634 PA. Church isn't an exciting option, but he's certainly a viable option.
It's far too early to speculate on the trade market, but there will be a flood of players available via free agency and waivers later on in the spring, even some that may be capable of starting (which would likely push Peter Bourjos to the bench or Triple-A). However, anyone available via those means will also be of similar quality to Church. At this point, all the Angels can hope to do is find one name among the many that will cross their desks over the next few weeks and select one that they think has the most value to the club and cross their fingers.
For more baseball news, rumors and analysis, follow @cbssportsmlb on Twitter or subscribe to the RSS feed.