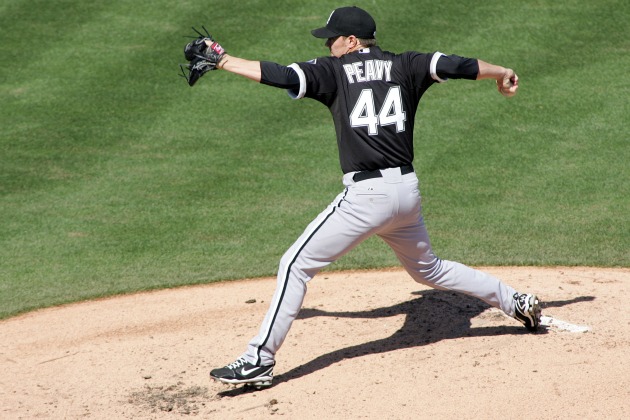 By Evan Brunell
It feels like the days are dragging now that spring training games are started. Craving relevance, it's important to take the performances of players -- especially day-to-day ones -- this early into spring training with a grain of salt. That said, there's still plenty news of note...
3 UP
1. SP Jake Peavy, CHW: 2 IP, 0 H, 0 R, 1 BB, 2 K. Scott Miller has more on Peavy, but here's the gist: the White Sox starter pitched in a game for the first time since injuring his shoulder in July. While the road to pitching in the regular season is still long, the fact Peavy made it through a game and had no issues during and after the game is a milestone.
2. SP Bartolo Colon, NYY: 3 IP, 2 H, 0 R, 0 BB, 5 K. Who saw this coming from Colon? He flat out dominated the Red Sox and turned enough heads that one has to wonder if Colon really might claim that No. 5 spot. It's way, way too early to proclaim Colon the front-runner, but Colon was an afterthought before this start. No longer.
3. LF Nolan Reimold, BAL: 3 AB, 2 R, 1 H, 3 RBI, 1 BB, 1 K, 1 HR. Reimold is battling for a spot on Baltimore's bench and is doing everything he can to avoid a demotion. Unfortunately, his inability to play center puts him behind the eight-ball. It's possible the O's could deal Reimold at the end of spring training, but that's hard to imagine given Derrek Lee and Vladimir Guerrero are temporary. Baltimore needs to keep its depth and young players, even if that means more seasoning down on the farm.
3 DOWN
1. SP Ryan Rowland-Smith, HOU: 2 IP, 4 H, 3 R, 1 BB, 1 K. Not good for "Hyphen," who is battling for the No. 5 spot in the Astros rotation. He has no shortage of challengers, including Nelson Figueroa, Aneury Rodriguez and Jordan Lyles, plus a few others. If he fails in his quest, he will be shuttled off to the bullpen.
2. RP Juan Gutierrez, ARI: 2/3 IP, 4 H, 3 ER, 0 BB, 1 K. Gutierrez gave up 13 home runs last season but somehow managed to save 15 games with a 5.08 ERA. That won't repeat itself this season, and if the 27-year-old wants to be an important part of the bullpen, he can't have outings like this with plenty of competition around him.
3. CF Dexter Fowler, COL: 4 AB, 0 R, 0 H, 0 RBI, 1 K. Now with the center field job his free and clear, Fowler needs to take another step forward this year after two years of over 500 plate appearances. Fowler was good enough those seasons, but he needs to take the next step forward if he wants to be considered an integral piece of the club. A .182 average to start spring training isn't helping.
For more baseball news, rumors and analysis, follow @cbssportsmlb on Twitter or subscribe to the RSS feed.