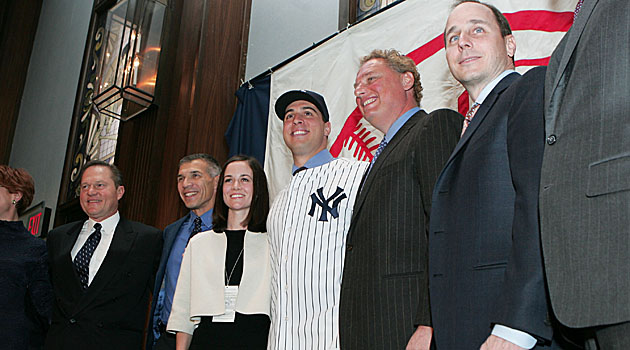 By Matt Snyder
Yankees
first baseman
Mark Teixeira
has decided to part ways with Scott Boras (seen above during happier times), ending a 12-year relationship with the uber-agent.
"There are a lot of things and no reason to go into details," Teixeira said. "We have been together long enough and time to go in a different direction ... When I hired Scott at 18 to help with career there was talk about free agent contract. At times I was Mark Teixeira, Scott Boras client instead of Mark Teixeira, baseball player." (
New York Post
)
As a Boras client, Teixeira landed an eight-year, $180 million contract. He still has six years left on that deal, so one could argue he doesn't really need an agent's services too much the next few years. He's going to make $22.5 million in 2016 before becoming a free agent.
Boras also lost
Alex Rodriguez
as a client earlier this offseason.
It's an interesting query: Why are these guys leaving Boras? Both have plenty of years and money left on their contracts -- incredibly lucrative ones that Boras negotiated. Does it show a lack of loyalty or the players tiring of Boras -- or neither, as it could be just a coincidence?
Here's an enlightening quote on the situation.
Bryan Hoch, the MLB.com beat writer
for the Yankees, tweets that "Teixeira said he wants to focus more on helping Yankees win and impact in community, not next contract. Feels Boras isn't best fit for that."
Interesting. So with six years left on a deal, Boras is still talking about the next one? While that's certainly his job, I can see how it would be a bit exhausting. It's not like Tex is going to be in the poor house anytime soon.
DEJA VU:
Milton Bradley
is swinging a hot bat in the spring. He's had problems with his current manager before (Eric Wedge), but he's learned from his mistakes and is now focused on doing the right things to help the team win. The manager is singing his praises. And it's March 2. We've heard this song and dance before, even if some specifics are different. Maybe one of these days something will change. Until then, history is the biggest indicator of future behavior. After 11 seasons, you don't even need a whole hand to count the number of times a season has ended on a positive note for Bradley. He's going to have to prove otherwise for a full season before getting the benefit of the doubt here. (
MLB.com
)
LILLY SCRATCHED:
Ted Lilly
was supposed to make his spring training debut Wednesday, but he's been scratched due to the flu. No long-term worries here whatsoever, though no new date for Lilly's first spring outing has been set. (
MLB.com
)
TROUBLE ON THE HOME FRONT?
There seems to be some signals crossed in
Pirates
camp when it comes to
Scott Olsen
. Sunday, Pittsburgh general manager Neal Huntington said that Olsen was fighting for the fifth rotation spot and could be sent to the bullpen if he loses out. That was news to Olsen. "He hasn't told me that, I don't know anything about the bullpen, I'm a starter," Olsen told the Post-Gazette. "They didn't bring me in here to be a bullpen guy," he continued. "They want to do that, we are going to have to have a conversation about it, and we haven't had one about it." Um, really? We're talking about a guy with this line in his career as a starting pitcher: 36-49, 4.87 ERA, 1.48 WHIP. In the past two years, he's 6-12 with a 5.76 ERA and 1.59 WHIP. And he apparently thinks he's in a position to make demands? Wow. (
Pittsburgh Post-Gazette
)
STAYING PUT:
Brandon Phillips
wants to stay with the
Reds
. The Reds want to keep him. Of course, in baseball we know we have to deal with much more than that, when it comes to dollars the player feels he's worth and the dollars the smallish market team can pay him -- especially with all the young talent the Reds have on the roster. John Fay breaks down how it might shake out. (
Cincinnati Enquirer
)
HIATUS?
Former
Tigers
pitcher
Jeremy Bonderman
has still yet to sign a contract. In fact, he may be ready to sit out an entire season. Jerry Crasnick of ESPN.com reports via Twitter that he talked to a player who knows Bonderman and "more than likely he's going to sit this year out." Crasnick also offered that Bonderman "doesn't have the energy for more rehabs, or going to camp and having to fight for a spot." In several ways, it's easy to feel bad for Bonderman. First of all, he was thrown into the fire on the worst major-league team in recent memory as a 20 year old -- that 2003 Tigers team that went 43-119. Bonderman took his lumps all year, going 6-19 with a 5.56 ERA. A few years later, he was a quality pitcher on a team that made the World Series. Since then, he's fallen apart with injuries and has never really scratched the surface on his potential. He's still only 28, so maybe a full season of rest can do some long-term good for his baseball potential. (
Crasnick on Twitter
)
FRIENDS FOREVER:
Barry Bonds' ex-trainer is going to jail, again, instead of testifying against Bonds. Loyalty or blind stupidity? You make the call. (
Associated Press
)
NO LOANS FOR YOU!
The
Mets
will not be receiving any more loans from Major League Baseball. That cool $25 million from last November will have to do. Maybe the Mets could borrow back some of the money
Jason Bay
didn't earn last year? (
New York Times
)
For more baseball news, rumors and analysis, follow @cbssportsmlb on Twitter or subscribe to the RSS feed.