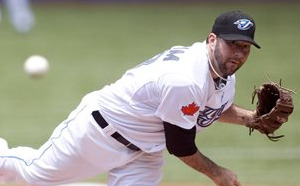 Sports Illustrated
's Jon Heyman
tweeted
that the
Blue Jays
may be a source of pitching-rich depth as the trade deadline approaches.
Heyman specifically names
Jason Frasor
,
Scott Downs
and
Shaun Marcum
(pictured) as pitchers that can be traded, although
Ricky Romero
is in the "untouchable" camp.
Toronto is likely grappling with the decision on whether to buy or sell.
The Blue Jays are currently fourth in the highly-competitive AL East with an impressive 38-33 record that places them six games behind the
Yankees
for first place. With the
Rays
and
Red Sox
nipping at the Yankees and all three teams boasting baseball's best records, it's hard to imagine Toronto has a realistic shot at the playoffs.
However, this season certainly has to be considered a success so far. It's not often one trades the best pitcher in the game (
Roy Halladay
) and improves. In addition, public relations has to be taken into account: with the team's success, how would it look if Toronto started selling off parts?
Frasor, 32, currently has a 5.40 ERA in 28 1/3 innings, but ERA has to be taken with a grain of salt with relievers as their innings total is so low. He is striking out 9.8 batters per nine innings, which is a career-high although he is also giving up 5.1 walks per nine, which would be the second-worst mark of his career. He's still one of the game's better middle relievers who has experience closing.
Given his poor performance to date, Toronto could probably justify dealing him, especially if they replace Frasor with Josh Roenicke, dominating Triple-A and having been acquired in last season's
Scott Rolen
trade.
Downs is older than Frasor at age 34, but is having a better season and continuing a four-year streak of being one of the best left-handed relievers in the game. The lefty has a 3.34 ERA in 29 2/3 innings and would most likely bring back a better piece than Frasor. Journeyman left-hander Sean Henn has a sub-2 ERA for Triple-A Las Vegas, so there is a ready-made replacement for Downs, but it's possible Henn has mastered Triple-A but not the majors. Additionally, even with strong replacements available in the minor leagues, to trade the team's two best relievers doesn't exactly send a positive signal to the fanbase.
The last pitcher named a possibility to be traded, Marcum, has made 15 starts on the year for an impressive 3.24 ERA. He was one of the league's burgeoning young pitchers before going under the knife and missing all of 2009. He hasn't missed a beat in his return and while the Jays are flush with plenty of starting pitching, it would be especially tough to justify to the fan base the dealing of Marcum. It's simply not likely to happen, especially when the team can slot Marcum in the rotation for at least two more years.
The Blue Jays are caught in no-man's land between having a season that dictates not rebuilding, but being in a division and with a team that isn't likely to have long-term success. The club has quite a tough road to navigate between now and the trading deadline.
-- Evan Brunell

For more baseball news, rumors and analysis, follow @cbssportsmlb on Twitter.