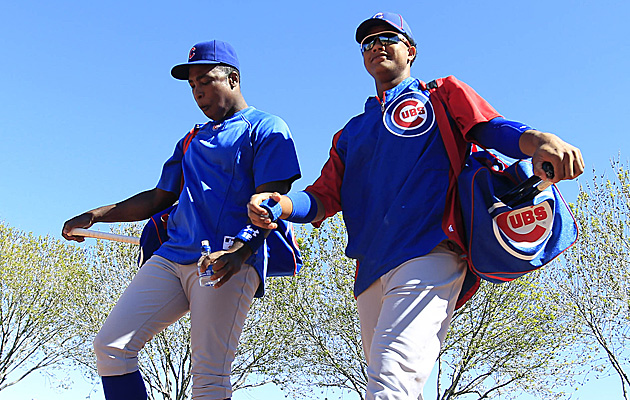 By Matt Snyder
After watching the
Cubs
go from a 97-win club to a 71-win version in just four seasons, owner Tom Ricketts took serious action in 2011. He fired general manager Jim Hendry and landed his version of a big fish, in former
Red Sox
GM Theo Epstein. Epstein took over as club president then added Jed Hoyer as general manager and Jason McLeod as senior vice president of scouting and player development, among other front office pieces. The new management group then hired Dale Sveum as the big-league manager and started to clean house. It's going to be a long process, but said process has begun in earnest.
Scott Miller's camp report:
Cubs Giddy With Optimism
|
Likes, Dislikes
Major additions:
OF
David DeJesus
, 1B
Anthony Rizzo
, 3B
Ian Stewart
, LHP
Paul Maholm
, RHP
Chris Volstad
, LHP
Travis Wood
Major departures:
RHP
Carlos Zambrano
, OF
Tyler Colvin
, RHP
Andrew Cashner
, 3B
Aramis Ramirez
, 1B
Carlos Pena
, LHP
Sean Marshall
, LHP
John Grabow
Probable lineup
1. David DeJesus, RF
2.
Starlin Castro
, SS
3.
Marlon Byrd
, CF
4.
Bryan LaHair
, 1B
5.
Alfonso Soriano
, LF
6. Ian Stewart, 3B
7.
Geovany Soto
, C
8.
Darwin Barney
, 2B
Probable rotation
1.
Matt Garza
2.
Ryan Dempster
3. Paul Maholm
4.
Randy Wells
5. Travis Wood
Chris Volstad will also be in the mix, but I gave Wood the nod because he's left-handed.
Back-end bullpen
Closer:
Carlos Marmol
Set-up:
Kerry Wood
,
Jeff Samardzija
Important bench players
IF
Jeff Baker
, C
Welington Castillo
, OF
Tony Campana
, OF
Reed Johnson
Prospects to watch
There are two here in particular that could make an impact in 2012: OF
Brett Jackson
and 1B
Anthony Rizzo
. It's entirely possible both are in the lineup come August. With Rizzo, it's a matter of whether or not LaHair can hit in the majors long-term -- as he could merely be one of those so-called Quadruple-A players. If that is the case and Rizzo is hitting well in Triple-A, the Cubs might well decide to turn to Rizzo. With Jackson, he's blocked all over the outfield, however, center field could easily be cleared in July. If the Cubs fall out of contention prior to the trade deadline -- and let's face it, that's a pretty good bet -- Byrd is a great trade candidate (sorry, I don't think the Cubs can deal Soriano just yet due to his contract). Byrd is in the final year of his contract and can play all three outfield positions, so surely some contender would cough up one mid-tier prospect for him. If that happens, the logical step for the Cubs would be to see how Jackson fared in center field for the final two months to determine if he can stay there or if he needs to be moved to a corner.
Fantasy sleeper:
Bryan LaHair
"Usually, when a player in his late 20s puts up eye-popping numbers at Triple-A like a .331 batting average, 38 homers and 1.070 OPS, he's dismissed right away as a Quadruple-A player, but apparently the Cubs' front office thinks LaHair is different -- and not just because of his impressive 59 at-bat stint in the majors last year. The experiment could still be a failure of
Kila Ka'aihue
proportions, which is why you shouldn't bother with LaHair in mixed leagues, but late in NL-only formats, why not?" - Scott White [
Full Cubs team fantasy preview
]
Fantasy bust:
Carlos Marmol
"If blown saves were Marmol's only problem, it'd be one thing, but the bottom line is he's not the efficient out-getter that Epstein and Hoyer would like their closer to be. His walk rate is as bad as it gets, and as a result, he's always pitching out of jams. Sure, his high strikeout rate helps compensate for it, but if he produces anything short of a best-in-the-league-type hit rate, his WHIP is in the danger zone." - Scott White [
Full Cubs team fantasy preview
]
Optimistic outlook
The deep pitching staff throws well and pays immediate dividends, as the bullpen improves with much better rest. Plus, behind the changes in right field and third base, the defense is also improved. Even Marmol's control issues drastically dwindle. LaHair and Stewart prove they can hit major-league pitching throughout the season and DeJesus turns out a perfect leadoff man for the suddenly balanced offense. And the Cubs find themselves right in the thick of the NL Central race with the
Cardinals
,
Reds
and
Brewers
until the end of the season, possibly even finishing somewhere in the top three.
Pessimistic outlook
By the end of July, Garza, Dempster and Byrd are all traded as the Cubs have no shot of making the playoffs. The Cubs try to avoid the cellar in a battle with the
Astros
, but continue the rebuilding effort and look forward to hitting the 2013 free agency class full-steam (less than $40 million is committed to 2013 payroll so far). Really, this is more realistic than pessimistic, because as much as the Cubs' coaches, players and front office say they're trying to win this year, it's obvious this is a two-year plan at the absolute minimum.
For more baseball news, rumors and analysis, follow @EyeOnBaseball on Twitter, subscribe to the RSS feed and "like" us on Facebook.