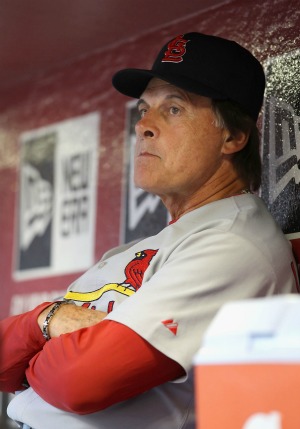 By C. Trent Rosecrans
Now don't get me wrong, Albert Pujols is the best player in baseball, the biggest cog in the Cardinals' machine and the best thing to happen to Tony La Russa since Jose Canseco discovered syringes -- but did La Russa's actions -- and non-actions -- this week send the wrong signal to Cardinal players not named Albert?
You may remember there was a little brouhaha earlier this week after Pujols was hit in the hand (admittedly unintentionally by everyone from Pujols to La Russa) by Brewers reliever Takashi Saito. La Russa went nuts, called Brewers fans "idiots," and had his pitcher, Jason Motte throw at the Brewres' Ryan Braun. Not only did Motte (who laughably denied intent afterward) throw inside and miss Braun with his first pitch, he then drilled him in the back with his second pitch.
"I don't want to even hear about Braun getting a little pop in the back when we almost lose [Pujols] in several ways," La Russa said after the game with the Brewers.
So fast forward to Thursday night: bases loaded, one out and Marlins right-hander Clay Hensley on the mound with David Freese at the plate. Hensley, who had struggled with control all night (and had already hit Matt Holliday up and in on the hand) hits Freese not in the hand, but in the head.
It was frightening and sickening. You never want to see a player hit in the head. It's an awful sight nobody wants to see -- least of all the man responsible, Hensley. But wasn't the principle the same? You don't throw at one of Tony's guys inside or high? Does the judge and jury in sunglasses need to make his verdict and dole out retribution? That's the message that was loud and clear on Tuesday.
Or was it?
The first pitch to the next Marlins batter after Freese went down? An 81 mph changeup low and slightly in from Kyle Lohse to Logan Morrison. No retaliation, no "stinger," no nothing. The second pitch? A sinker called for a strike. Morrison then singled on Lohse's fourth pitch, another changeup.
Is the lesson learned hear that a shot to the head is less dangerous to one at the hand? Or is it that Pujols is more valuable not just on the field but as a person than a 28-year-old with 144 big-league games under his belt? Hit Albert and your team will pay. Hit one of the other guys? It's OK, just don't hit Albert. If I'm one of the other guys, I first worry about my fallen teammate and then wonder if I'm important enough for my manager to care about.
But hey, La Russa sure sent a message against the Brewers -- Saito won't ever hit another guy because Motte twice threw at Braun. So since La Russa didn't go all outlaw justice on the Marlins, Hensley doesn't have any idea that it's bad to hit a player in the head, right? He needs La Russa's guidance to understand hitting someone in the head with a baseball is a bad idea.
Maybe not.
"It's unacceptable," Hensley told reporters after the game (via the St. Louis Post-Dispatch). "I could have seriously hurt somebody. You never want to go out there and hit people, much less hit them in the head."
Maybe, just maybe, having your pitcher hit another player doesn't teach a lesson -- they can figure it out on their own without help from the other team's manager. Could it be that teaching a lesson via a "stinger" only escalates the problem? Nope, that's not La Russa's code -- and he's apparently the keeper of the code, so only he can decide that.
For more baseball news, rumors and analysis, follow @cbssportsmlb on Twitter or subscribe to the RSS feed.