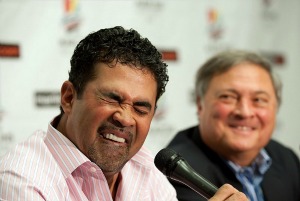 By C. Trent Rosecrans
Over the next couple of weeks, Major League Baseball and Showtime will be planning out the rest of their shoots over the course of the season for this season of
The Franchise
, which will follow the Miami
Marlins
' season. But by the time the regular season begins in April, Chris Tully, MLB senior vice president for broadcasting, said they'll already be looking for the 2013 subject.
"We think this concept has legs," Tully said on Tuesday. "I think Showtime has as much passion for the project as we do. The challenge was getting it launched, but once we were able to get over that hurdle, the reception has been excellent."
After following the
Giants
in season one, Tully said several teams approached MLB about opening their doors for the cameras in 2012. But as many teams as expressed interest, there was one team that just stood out and made the decision easy -- the new-look Marlins.
"I think we're foturnate with the players already on hand and the new players they brought in. With Ozzie (Guillen), the new stadium, the new branding, the new uniforms. We're catching them at the most opportune time."
It seems so. There will be no shortage of storylines for this season of The Franchise -- the show, Tully said, will no doubt touch on Guillen,
Hanley Ramirez
's move to third base to accommodate newcomer
Jose Reyes
, the addition of
Heath Bell
and
Mark Buehrle
, as well as the opening of a new stadium. Tully confirmed a
Miami Herald
report that the filming has already begun, including the Marlins' meeting with Cuban outfielder Yoenis Cespedes last week. The cameras will certainly be rolling when the Marlins' pitchers and catchers report for spring training this weekend.
But it's the stories that have yet to emerge that are the most exciting, Tully said. One of his favorite storylines in the Giants season was the unlikely emergence of
Ryan Vogelsong
, who hadn't pitched in the big leagues since 2006 and then made the All-Star team in 2011.
"One of the key things is giving access to viewers that they don't usually get," Tully said. "How do they interact with each other, with management and how they interact with their family and friends."
Last season the series started with a "sneak peak" in April and then started in July for a run of nine total episodes. This season is expected to be nine episodes, but it's unlikely they'll have a preview episode, starting the full nine half-hour episodes shortly after the All-Star break and running through September.
Most exciting, though, may be that we'll get the full, uncensored Guillen, who is known to like an expletive or two. Those were bleeped when he was featured as part of
The Franchise
's precursor
The Club
, on MLB Network.
"We didn't use bleeps last year," Tully said. "I don't think language is a focus or a concern."
It's just going to be a bonus.
For more baseball news, rumors and analysis, follow @EyeOnBaseball on Twitter, subscribe to the RSS feed and "like" us on Facebook.