By C. Trent Rosecrans
MVP
Sure, it seems like a cop-out or too obvious, but how is any talk of a Cardinals' most valuable player going to come down to anyone but the best player in the game, Albert Pujols?

How good is Pujols? Last season he was second in the MVP voting after a .312/.414/.596 season. He led the National League in home runs (42) and RBI (118), as well as all the majors in runs (115) -- and it was still reasonable to call it a "down" year for him.
Pujols has three MVP trophies so far in his career and it'd be an upset if he didn't finish his career with at least four.
PLAYER ORACLE
Rogers Hornsby played with Buck Jordan for the 1927 New York
Giants
Buck Jordan played with Johnny Vander Meer for the 1937 Cincinnati
Reds
Johnny Vander Meer played with Minnie Minoso for the 1951 Cleveland
Indians
Minnie Minoso played with Jim Morrison for the 1980 Chicago
White Sox
Jim Morrison played with John Smoltz for the 1988 Atlanta
Braves
John Smoltz played with
Colby Rasmus
for the 2009 St. Louis Cardinals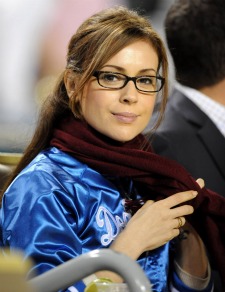 POP CULTURE
Anthony Morton "Tony" Micelli not only had to retire from his spot as a second baseman for the St. Louis Cardinals because of a shoulder injury, but he also lost his wife and then had to swallow his pride and become a live-in housekeeper for an advertising executive in Connecticut.
Sure, it could be a sad story, but in the end, it provided more laughs than tears, even if we never learned exactly Who's the Boss?
Tony Danza played Micelli in the eight seasons of the sitcom that aired from 1984 to 1992. On the show, his daughter was played by Alyssa Milano (right), who took the inspiration from her ballplayer TV dad and has been connected to Major League Baseball for several years. Milano has dated several big league players, including former Cardinal Brad Penny, along with Carl Pavano and Barry Zito.
Milano isn't just attracted to players, but also the game. In 2007 she was playoff correspondent for MLB.com and in 2009, she wrote a book called Safe at Home: Confessions of a Baseball Fanatic. She also designed a line of baseball-themed clothes for women, sold at MLB.com.
For more baseball news, rumors and analysis, follow @cbssportsmlb on Twitter or subscribe to the RSS feed.