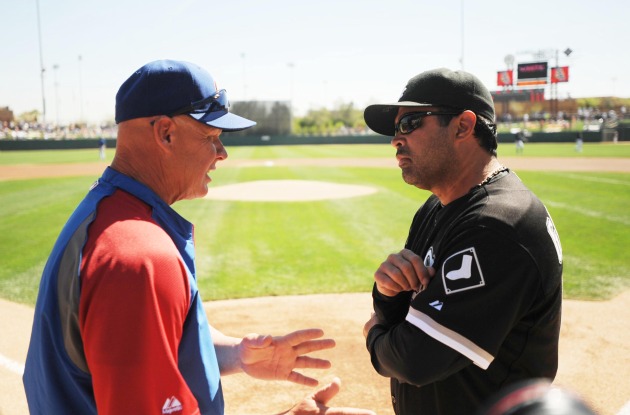 By Evan Brunell
It's never quite made sense why intra-city rivals hate each other in baseball, especially since both teams are usually in opposite leagues.
The Mets and Yankees have a healthy dislike for each other, the Giants and Athletics don't quite have a rivalry but don't have a need for the other (especially since the Giants are blocking the A's move to San Jose) and the White Sox and Cubs take home the prize for most contentious intra-city rival.
But these fans should be thrilled to have two teams to root for. And yet, Chicago has been split between the north and south sides for years. And admittedly, both sides have ratcheted up the rhetoric in recent years. Think Michael Barrett punching A.J. Pierzynski, or when ChiSox GM Kenny Williams said "The unfortunate thing for me is it's a shame that a certain segment of Chicago refused to enjoy a baseball championship being brought to their city [in 2005 by the White Sox]. The only thing I can say is, 'Happy Anniversary.'"
Williams was referring to the 100th year anniversary of the Cubs not winning the World Series. Safe to say, as late as a few years ago, both sides had no use for each other.
That's changed.
"I have a good relationship with [board chairman] Jerry [Reinsdorf], same with Kenny, and it's no secret that [manager] Ozzie [Guillen] and I have had that relationship for a while and he knows that," Cubs GM Jim Hendry said. "I talked to him before the World Series in '05. I don't like [the Sox] six days a year, that's how I try to look at it."
Williams concurred earlier this season, saying that he would pull for the Cubs to win the World Series if the White Sox were out of it due to how much the community and fans would profit from such a win. Could there be a thaw in the rivalry? Stay tuned... (Chicago Sun-Times)
NO GRAY HAIR: Guillen is a fan of new Cubs skipper Mike Quade (both of them are in the photo), who is an unusual choice to manage the club given the team's more recent high-profile selections. While Guillen admitted managing in Chicago is tough, he feels Quade can get through it, and guaranteed something Quade probably appreciates. "I know [Quade] is not going to lose his hair, that's for sure," Guillen said. "I guarantee that he won't lose his hair. And he's not going to get gray." (ChicagoBreakingSports.com)
SCANDAL? WHAT SCANDAL? Even though the Bernie Madoff fallout is threatening the Wilpons' hold on the Mets, Major League Soccer commissioner Don Garber believes the Wilpons would be "a great fit" for a MLS team. The league is hoping to add a second team into New York City. (New York Times)
MOR(S)E IS BETTER: Waiting with baited breath to find out who wins the left field job for the Nationals? It's not Roger Bernadina or Rick Ankiel, at least so far. Manager Jim Riggleman tabs longtime utilityman Michael Morse the favorite, who is having a hot spring and showed life in his bat last season. Don't worry Roger and Rick, you're still in the hunt for the center field job, competing with Nyjer Morgan. (Washington Post)
IT'S TIME TO SEE ADRIAN: Adrian Gonzalez will make his spring training debut for the Red Sox Saturday at 1:05 p.m. Gonzalez has been slowed by rehabilitating his surgically-repaired right shoulder but is still expected to be ready for Opening Day. (MLB.com)
NUMBER 42: For those that are fans of the Hitchhiker's Guide to the Galaxy, Larry Granillo is here for you. Penning his Wezen-Ball blog, Granillo comes up with some Vogon poetry on baseball. You'll have to click through for the rest, but here's the opening verse: "Oh round orb, An epidermis-bovine corpuscle, Sutured in red, Resembling the estrused stripplegrats of Kria." Yep, Vogon poetry -- the third-worst poetry in the universe. (Baseball Prospectus)
PUT ON YOUR MEAN FACE: Kevin Jepsen is likely to setup for the Angels this season, but could eventually take the ball at the end of games. However, ex-Angels closer Troy Percival thinks Jepsen needs to stop being so nice if he wants to succeed as a closer. And you can bet Jepsen is listening. (Los Angeles Times)
HEEEEERE'S RONNY: Slowed by visa issues, Mets backup catcher Ronny Paulino finally arrived in camp. The Mets plan to be aggressive with him so he is ready to go, but still has to serve the final eight games of a 50-game suspension for violating the substance abuse program last season. (New York Post)
HARPERMANIA: An excellent feature by Dave Sheinin comes your way on Bryce Harper. The takeaway? Get excited. (Washington Post)
I'M A GIANT NOW: Longtime Padres player, coach and broadcaster Tim Flannery followed Bruce Bochy to San Francisco after the 2007 season and now considers him a true Giant. "It's black and white, cut and dried," Flannery said. "We're Giants. I had nice experiences down there, but it was all to prepare me to be a San Francisco Giant." (San Jose Mercury News)
'ZONA'S NOT GETTING YOUNG: These Michael Young-to-Diamondbacks rumors won't die and recently surfaced a few days ago. And yet, word is still trickling down to reporters that a trade is unlikely to happen for a variety of reasons. For those rooting for Young to head to the desert, look elsewhere. (Arizona Republic)
For more baseball news, rumors and analysis, follow @cbssportsmlb on Twitter or subscribe to the RSS feed.