By Evan Brunell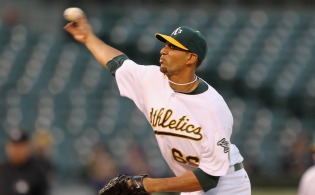 The Oakland A's made a blizzard of moves Friday, playing starters
Tyson Ross
and
Brandon McCarthy
on the disabled list as the most notable transactions.
Ross (pictured) suffered an oblique strain (surprise!) and could miss over a month, while McCarthy has a stress reaction in his shoulder that has bothered him for a few years and apparently has flared up. That's 40 percent of the rotation -- gone. And those were some pretty valuable members, too.
Ross had a 2.75 ERA in six starts and three relief appearances, with the rookie backing up his production with a 3.66 xFIP. McCarthy, meanwhile, had revitalized his career in Oakland out of the No. 5 spot in the rotation, throwing up an identical 3.39 ERA and xFIP although you wouldn't know it from his 1-4 record.
Josh Outman, Bobby Cramer and Guillermo Moscoso are potential replacements in the rotation, although Outman has been hit around in Triple-A as he returns from Tommy John surgery; Cramer has his own injury concerns to work through; Moscoso seems to be the one most likely to get the call -- or at least one of the two calls. There isn't a need for a No. 4 or 5 starter until Monday, so the A's will delay a decision until then.
Reliever
Trystan Magnuson
was also optioned after coughing up six runs over two innings Thursday. To replace the three open spots, Joey Devine, Jerry Blevins and Fautino de los Santos were recalled. De los Santos, acquired in the
Nick Swisher
trade way back in 2008, was converted to relief for the 2010 season and is making his major-league debut after coughing up just three runs in 15 1/3 innings split between Double- and Triple-A. The 25-year-old added 21 punchouts and eight walks. Blevins, meanwhile, was with the team just last week before being sent down to work on control problems, but events necessitated his return. Blevins gave up seven runs in 4 2/3 innings for Triple-A, so he's really nothing more than filler and can be expected to be sent back down shortly.
Devine will return to the majors for the first time since 2008, when he had a sterling 0.59 ERA in 45 2/3 innings. Injuries have robbed him of the years since, only returning to a mound this season for Triple-A and contributing 12 1/3 scoreless innings, striking out 17 and walking one. In other words, looking just like the Devine of old. It's been a long road back for the 27-year-old.
And here's what McCarthy had to say about his DL trip on Twitter: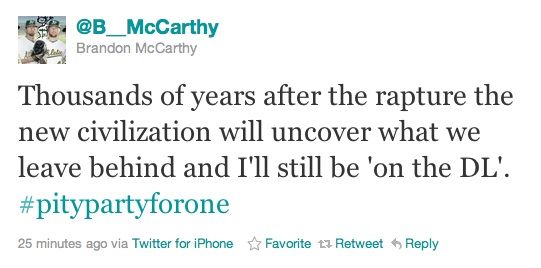 For more baseball news, rumors and analysis, follow @cbssportsmlb on Twitter or subscribe to the RSS feed.