A look at this week in promotional giveaways from around baseball:
Tuesday, Aug. 10
Las Vegas 51s (Pacific Coast League) -- Rita Rudner bobblehead. I don't even know what to say about this one. I'm not sure I'd make the effort to get to the ballgame for this one.
Wednesday, Aug. 11
Lehigh Valley IronPigs (International League) -- Hambone mini bobblehead. I'm all for mascot races, especially when they feature pork. Lehigh Valley's features a hot dog, bacon and a side of ham. Everyone's doing them and I don't think it's a bad thing.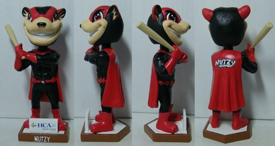 Richmond Flying Squirrels (Eastern League) -- Nutzy bobblehead. Mascot bobbleheads always go for more on eBay, and I think Nutzy the Flying Squirrel will be out of my price range, sadly.
Lancaster JetHawks (California League) -- Hawkette bobblehead. Another mascot, but not one I'll be searching for on eBay.
Lowell Spinners (New York-Penn League) -- Lou Merloni bobblehead. The Spinners are honoring a local legend.
Thursday, Aug. 12
Erie SeaWolves (Eastern Leagie) -- Al E. Gator bobblehead. It must be the week of the
Vancouver Canadians (Northwest League) -- wearable blanket
Friday, Aug. 13
Tampa Bay
Rays
-- t-shirt. Come for the T-shirt, stay for the Village People postage concert.
Atlanta
Braves
-- t-shirt
New York
Mets
--
Johan Santana
koozie
Washington
Nationals
-- beer and pItcher cup set. Nats try to one-up their NL East foes by going all classy with an actual cup for beer drinking.
Trenton Thunder (Eastern League) -- travel mugs.
Springfield
Cardinals
(Texas League) -- floppy cap.
Rancho Cucamonga Quakes (California League) --
Torii Hunter
bobblehead. That bobblehead may accidentally bobble and hit the umpire and get a bobble suspension.
Lynchburg Hillcats (Carolina League) -- Phil Vassar bobblehead. I had to Google him. He's apparently a country music artist. Go figure.
Boise Hawks (Northwest League) -- playground ball. No pegging.
Saturday, Aug. 14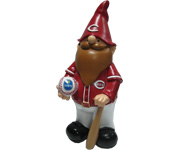 Cincinnati
Reds
-- garden gnome. Let's just say my wife has been bugging me about this one for a while. She loves garden gnomes. I don't get it either. That said, I've seen one and it's pretty cool.
Chicago
White Sox
-- Miller Lite Beer vendor bobblehead. Now that's an MVP.
Kansas City
Royals
-- 1980 A.L. Champion coaster set. I was hoping for a U.L. Washington toothpick holder.
Minnesota
Twins
-- mini Target Field
New York Mets -- green cap. You know, because Aug. 14 is St. Declan's Day. He was St. Patrick's younger brother.

San Francisco
Giants
-- Bruce Bochy bobblehead. The rare bobblehead that is in its proper proportion.
Fresno Grizzlies (Pacific Coast League) -- Parker bobblehead. Another mascot.
Oklahoma City RedHawks (Pacific Coast League) -- RedHawks skateboard. This is one of the cooler promo items of the year, several teams have done them. However, I worried about some people when the Reds had a skateboard deck giveaway and someone dropped one from the upper deck. Luckily it didn't hit anybody.
Jacksonville Suns (Southern League) --
Logan Morrison
bobblehead.
Arkansas Travelers (Texas) -- pillow cases. Somehow, I don't think my wife would let me use these.
Wilmington Blue Rocks (Carolina League) -- Judy Johnson book, "Judy Johnson Delaware's Invisible Hero." Really cool to educate fans about a former Negro Leaguer.
Lake County Captains (Midwest League) -- fleece blanket
West Michigan Whitecaps (Midwest League) -- superhero cape. A really cool giveaway for kids.
Boise Hawks (Northwest League) --
Tyler Colvin
bobblehead. The Hawks apparently knew Colvin would have a good rookie season.
Sunday, Aug. 15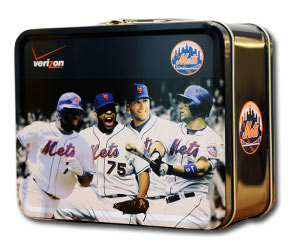 New York Mets -- metal lunchbox
Tampa Bay Rays --
Matt Garza
bobblehead
Cleveland
Indians
-- Mustard (hot dog) plush doll
Cincinnati Reds -- kids chest protector backpack
Washington Nationals -- back-to-school supply kit
Richmond Flying Squirrels (Eastern League) -- metal lunchbox. Again, I gotta give the Flying Suqirrels the nod. The Mets have
Jose Reyes
, the Flying Suqirrels have Nutzy. Advantage Nutzy.
-- C. Trent Rosecrans

For more baseball news, rumors and analysis, follow @cbssportsmlb on Twitter.