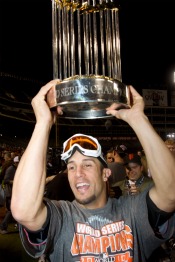 A documentary is being made about Giants outfielder Andres Torres and his 10-year journey in the minor leagues and life-long struggles with Attention Deficit Hyperactivity Disorder. Henry Schulman of the San Francisco Chronicle has the whole story, but it got me to thinking -- what other big-leaguers would make a good movie?
Brian Wilson -- Torres' teammate would be perfect for a comedy, or he could have a fake documentary like Joaquin Phoenix's I'm Still Here.
Dirk Hayhurst -- The Rays reliever already has the book, they can just turn it into a movie. It would be high on comedy, low on juicy details. Hayhurst was living with his grandmother, close to quitting baseball when he turned his career around. It's not the perfect ending, he's had a handful of big-league appearances, but is with the Rays on a minor-league contract.
Josh Hamilton -- Everyone knows the story, and it's perfect for Disney.
Jon Lester -- Unless Disney decides to do Lester's story instead. Lester was diagnosed with non-Hodgkin lymphoma as a rookie in 2006. The next season he won the game-clinching game for the Red Sox in the World Series. The season after that, he threw a no-hitter. Last season the lefty finished 19-9 with a 3.25 ERA.
Miguel Cabrera -- We're not sure how this one will end yet -- it could either be a feel-good story, or a tragedy. We'll stay tuned.
Coco Crisp -- Forget that beer commercial guy, Crisp may be the most interesting man in the world.
Ugeth Urbina -- The two-time All-Star reliever is currently serving a 14-year prison sentence in his home country of Venezuela after being convicted on two charges of attempted murder. In 2005, Urbina attacked five farm workers on his property, accusing them of stealing a gun. He attacked the men with a machete and tried to pour gasoline on them. (Suggested on Twitter by @23yanksgoyard.)
-- C. Trent Rosecrans
For more baseball news, rumors and analysis, follow @cbssportsmlb on Twitter or subscribe to the RSS feed.