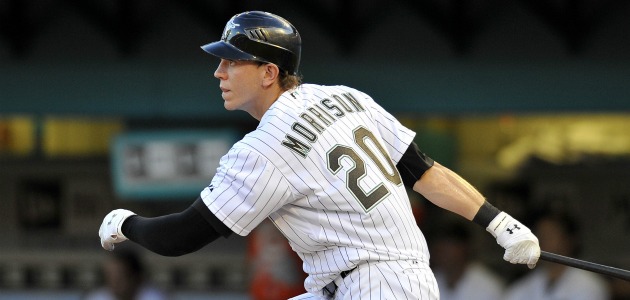 By Evan Brunell

In a
surprise move on Saturday
, the
Marlins
optioned Logan Morrison to Triple-A, but there's more to it than just batting average, and the left fielder is expected to pursue filing a grievance.
"We are going to, with absolute certainty, explore this and contact the union and make sure Logan's rights are protected,'' Fred Wray, Morrison's agent, told the Palm Beach Post. "It doesn't seem like everything adds up here.''
On the face of it, the move was rather surprising as the 23-year-old has cranked 17 home runs on the year for Florida in following up his successful debut last season when he hit .283 with 20 doubles and seven triples last season in 287 plate appearances. But Morrison has been in a bit of a tailspin since the beginning of July, hitting .221/.290/.457. The power's been there, but the batting average hasn't been, which the front office cited as the reason for the demotion, Morrison told the
Palm Beach Post
in a previous story. If you're wondering why a promising youngster who has proven he can stick in the majors would be demoted on 36 games of a .221 batting average, you're not alone. The demotion smacks of something more, with Morrison admitting as much and GM Larry Beinfest cryptically alluding to such a thought.
Morrison "just needs to concentrate on baseball and all aspects of being a major leaguer," team president Larry Beinfest told the
Post
. This could be reference to the increasing friction between Morrison and the front office, starting with his
Twitter account
which he has embraced wholeheartedly to the chagrin of the front office. He also spoke out
against the firing of hitting coach John Mallee
in early June. And now, the latest incident.
Morrison was demoted after he opted not to attend a meet-and-greet with season-ticket holders Saturday after already attending an autographing event that ran long earlier in the day. Morrison, who was already upset at the team's canceling of a charity bowling tournament due to lack of interest, asked union player representative Wes Helms if he had to attend. Helms, who did attend the event, told Morrison he was not required to do so. Morrison went on to
apologize for not attending the meet-and-greet on Twitter
, but that wasn't enough for Beinfest and the front office.
Helms was also released Saturday, perhaps due to his involvement in the incident. Helms' .191/.276/.236 line in 124 plate appearances wasn't exactly keeping him on the team, but he had been with the club since 2008 and was considered one of the clubhouse leaders. In addition, on Sept. 1, teams can carry up to 40 players on the major-league roster, so all Florida had to do was wait a couple weeks and they could have made a move to shore up the bench. On a team going nowhere where Helms has been valued and in his role as a pinch-hitter, his release is curious despite the numbers favoring a release, as he has lasted this long.
"I'm not going to get into any specific incidents," Beinfest said. "I'm sure Logan has his view of things and the organization has their own view of things."
"Right now I just feel resentment and anger," Morrison told the Post when the demotion occurred. "Stand up for what's right and this happens."
Around midnight Sunday morning, Morrison took to Twitter and said, "Thx guys 4 all of ur kind words & support. Really means a lot! "A bend in the road isnt the end of the road...unless u fail 2 make the turn."
Morrison will certainly return to the majors once rosters expand and may even be back before then, as this demotion smacks of making a point, not to iron out deficiencies in Morrison's game. The grievance, meanwhile, is unlikely to be filed as the player's union will tell Morrison the Marlins can point to his slump to justify the demotion, which would be good enough to dismiss the grievance. Either way, it's clear both Morrison and the front office aren't happy with each other, and this incident will only serve to strain the relationship further. Unfortunately for Morrison, he has five more years of team control before he can become a free agent.
For more baseball news, rumors and analysis, follow @EyeonBaseball on Twitter or subscribe to the RSS feed.