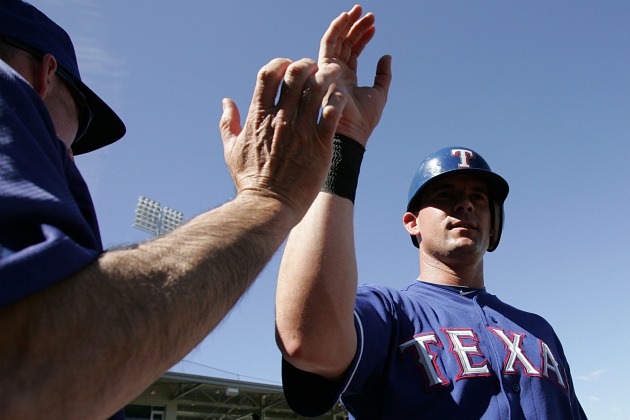 By C. Trent Rosecrans
With no games to play, sometimes some stories get a little too overexposed. From the Cliff Lee sweepstakes to Chase Utley's day-to-day health and the Jon Daniels-Michael Young feud, we're all pretty much tired of them by now.
The story won't be closed until Young is no longer in a Rangers uniform, then he'll have a press conference, have his say and it'll all be over. For now, he's still a Ranger and back on speaking terms with his general manager. The two met Wednesday and Thursday, and Young said neither minced words.
"I laid out in detail what I was feeling, what my concerns were and gave him the opportunity to do the same," Young told the media on Thursday, including the Ft. Worth Star-Telegram. "Anytime you're going to sit down with somebody where there's a problem or an issue and air things out face-to-face, it's always productive."
Young would not say if he still wants to be traded, but Daniels said it's "unlikely" to happen before the season begins -- and Young understands that.
"It created a situation where fans, media and other people in the organization were almost taking sides," Daniels said (again, from the Ft. Worth Star-Telegram). "It should have never been that way. We both want the same thing, for the Rangers to win. Through that process, I think Michael took a lot of shots from the media and fan base that from my persecutive weren't necessary."
That last statement is interesting to me -- it's Daniels standing up for Young. He may have thought or said in private some of the same things the fans or media have said, but he's not going to do that in public. It's a wise move, one that Young -- no matter what he's said in the past -- has to at least see as a move in the right direction.
Maybe Young plays out his days as a Ranger, maybe he doesn't. But either way, hopefully we can end this chapter.
READ THIS TODAY -- The Kansas City Star's Sam Mellinger writes a great column on former Royal Willie Mays Aikens and his faith. Aikens is dealing with family tragedy even after everything in his life was looking up. After 14 years in jail, Aikens had been hired by the Royals this offseason. I'll let Mellinger tell the rest of the story.
BLAME THE MESSENGER -- Well, once someone says something interesting, we all know they'll come back and claim it's "taken out of context." That's what Buck Showalter did on Thursday, backing away from his comments in the April issue of Men's Journal about the Yankees and Red Sox. [Boston Globe]
GALARRAGA TO BULLPEN -- The Diamondbacks are expected to move Armando Galarraga to the bullpen, with Aaron Heilman taking the fifth spot in the team's rotation. Galarraga has an 8.44 ERA in 16 innings this spring. Galarraga said he still wants to be a starter. [Arizona Republic]
NATS PICK FIFTH STARTER -- Tom Gorzelanny will fill out the Nationals' rotation, manager Jim Riggleman said on Thursday. Livan Hernandez will open the season for the Nationals, followed by Jordan Zimmermann, John Lannan and Jason Marquis. [MASNSports.com]
AND SO DO THE Rockies -- Colorado's fifth starter will be right-hander Esmil Rogers. Rogers will follow Ubaldo Jimenez, Jorge De La Rosa, Jhoulys Chacin and Jason Hammel. [Denver Post]
LAWRIE SENT DOWN -- After saying he was done with the minor leagues this offseason, Brett Lawrie discovered he's not the one in charge of that decision. The 21-year-old third baseman said he was disappointed, but understood his demotion. The Blue Jays acquired Lawrie this offseason by sending Shaun Marcum to Milwaukee in exchange for the former first-rounder. [MLB.com]
ORDONEZ READY -- Tigers outfielder Magglio Ordonez said he'll be ready for opening day. Ordonez returned to action for the first time since last week on Thursday night. Ordonez went 1 for 4 on Thursday with a double. [MLB.com]
BELTRAN IMPROVING -- Carlos Beltran reported no pain in his knees after a workout on Thursday and Mets manager Terry Collins was so impressed with the way he looked that he wouldn't count out Beltran for opening day. [New York Times]
MORALES IMPROVING -- Orthotic inserts have helped ease the soreness in the left foot of Angels first baseman Kendrys Morales. Morales still won't be available for opening day, but he has gotten the OK by the team's trainers to start "baseball activities." [MLB.com]
DAVIS DRAWING INTEREST -- Doug Davis, the 35-year-old left-hander, threw for as many as eight teams in Tempe, Arizona, on Thursday. Davis made just eight starts last season for the Brewers due to a heart problem and elbow surgery. Among the eight teams to watch him were the Rangers, Rockies, Orioles, Mets and Angels. [MLB.com]
WORK OF ART -- Pedro Martinez will be on hand at the Smithsonian on Friday for the unveiling of his portrait at the National Portrait Gallery. A painting of Martine done by Susan Miller-Havens has been donated to the gallery by MLB.com's Peter Gammons and his wife. [Smithsonian]
BETTER LATE THAN NEVER -- The man the late Buck O'Neil handpicked to run the Negro Leagues Baseball Museum in Kansas City following the legend's death, is finally getting the job. Bob Kendrick was passed over as the head of the museum two years ago and on the brink of collapse, Kendrick has been tabbed to takeover.
Few people were as upset at the snub as former Kansas City Star columnist Joe Posnanski, who has kissed and made up with the museum on his blog. [Kansas City Star]
FAN-DESIGNED UNIFORM -- I didn't know until yesterday that the White Sox uniforms of the the 80s were the product of a contest run by the team to design a new uniform. Richard Launius, then of Dayton, Ohio, designed the White Sox's pullover Sox uniforms with numbers on the pants. [ESPN.com]
FOOD NETWORK INVADES YOUR PARK -- The Food Network is offering steak sandwiches at eight ballparks this summer. If you're in Baltimore, Cincinnati, Cleveland, Detroit, Milwaukee, San Diego, St. Louis or Texas, you can go visit Paula Deen working her cart at your park. What, you don't think she's going to be there? Maybe Morimoto? We can hope. [Sportsandfood.com]
For more baseball news, rumors and analysis, follow @cbssportsmlb on Twitter or subscribe to the RSS feed.