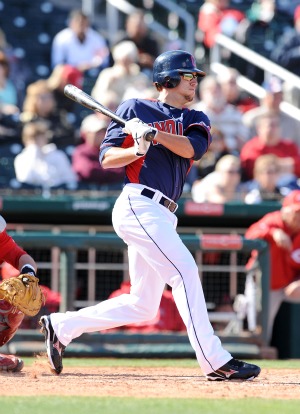 As part of the CBSSports.com Top 100 prospects list, there are many who will graduate from the list and thus provide holes to be filled. A fair number will be filled from those who are drafted in June, but there will also be leaps forward by certain players. Here's the top five names to watch for a massive leap forward (no one ranked No. 25 or higher were considered):
No. 30 Jonathan Singleton, PHI
Age: 19
Position: 1B
Bats/Throws: L/L
It's not fair, is it? After the Phillies depleted their farm system to trade for Cliff Lee and Roy Halladay, here they are with Domonic Brown ranked No. 3 on the Top 100 list and Singleton No. 30. Singleton could leap up this list with a consistent showing in 2011; he couldn't hold up to a full season in 2010. He's being moved to left field, so will have to sustain his offense while learning a new position.
No. 31 Lonnie Chisenhall, CLE
Age: 22
Position: 3B
Bats/Throws: L/R
Chisenhall is the Indians' great hope to anchor the infield and provide an elite bat alongside catcher Carlos Santana and outfielder Shin-Soo Choo. With a strong season, Chisenhall could make a late-season debut although one has to cast an eye toward 2012 for any regular playing time. At just 22, Chisenhall figures to spend the entire year in Triple-A.
T-No. 44 Zach Wheeler, SF
Age: 20
Position: SP
Bats/Throws: R/R
Wheeler, drafted No. 6 in the 2009 draft, impressed in his first showing in the professional ranks. He started 13 games and relieved in seven more, pitching a total of 58 2/3 innings and turning heads with a 10.7 K/9 rate although that was paired with a 5.8 BB/9 rate. If he can knock down that walk rate, he could zoom up the list. In Wheeler's favor is missing time in 2010 with a cracked fingernail that may have impacted his command. Wheeler could eventually emerge as a No. 1 and shows an ability to handle workloads of 200-plus innings.
No. 63 Nick Castellanos, DET
Age: 19
Position: 3B
Bats/Throws: R/R
Castellanos was drafted No. 44 overall in the 2010 amateur draft solely because of bonus demands. His potential is sky-high and could be the best third baseman on the 2012 top prospect list, although Chisenhall and Brett Lawrie will have something to say about that. The Tigers love taking prep players, and Castellanos is no exception. He has big power and a solid glove, but the jury is still out on how he transitions to advanced competition.
No. 100 Carlos Martinez, STL
Age: 19
Position: SP
Bats/Throws: R/R
Formerly Carlos Matias, the Red Sox have to be annoyed they lost out on Martinez after faulty paperwork on the player's end. Martinez punched out 78 in 12 starts in the Dominican Summer League over 59 innings and turning the heads of many. Martinez's fastball plays in the high 90s and holds one of the best fastballs in the game as Baseball America's Ben Badler reports. He does need to improve his secondary stuff but at just 19, has plenty of time to do so. Now with a work visa finally secured, Martinez will be stateside for 2011. A top-10 ranking is probably optimistic, but top-25 should be well within reach.
HONORABLE MENTION: No. 44 Brett Lawrie, TOR third baseman and No. 38 Gary Sanchez, NYY catcher.
For more baseball news, rumors and analysis, follow @cbssportsmlb on Twitter or subscribe to the RSS feed.