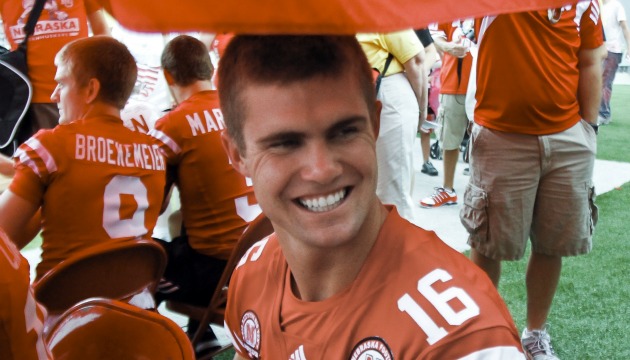 By Evan Brunell

TOUGH DECISION
: Bubba Starling has a choice -- accept a hefty bonus and head to the minor leagues for a few years in the hope he can rise up the ladder and join the
Royals
. The hometown athlete was drafted by Kansas City in June but he has yet to sign with the deadline coming up on Monday. Starling has a tough decision to make -- join K.C. or head to the Nebraska Cornhuskers, where fame as a quarterback awaits.
"It's a win-win situation," Starling told the
Kansas City Star
.
Starling was at the University of Nebraska signing autographs and fans obviously were rooting for Starling to opt to join the Cornhuskers. The problem is, that's a lot of money for Starling to give up to play football, a sport that's more dangerous to overall long-term health.
"If it was my son, I'd probably tell him to play baseball," fan Kevin Sullivan said. "But, you know, if he's going to play Nebraska football …" (
Kansas City Star
)

BIZARRE INJURY
: There's always a few injuries each season that make you do a double-take.
Chris Narveson
was a victim of such an injury, slicing his thumb with scissors while trying to repair his glove. He required eight stitches and will miss his next start. (
Milwaukee Journal-Sentinel
)
BACK TO SCHOOL
: Zachary Houchins, the
Nationals
' 15th round pick, is heading back to college. "I haven't had [contact with the Nationals] any since all that stuff happened," Houchins said. "I'm set on going back to school. ... I'm happy with it. I'd love to go back there."
Houchins is referring to epithets used to describe African-Americans, homosexuals and Chinese on his Twitter feed in June, since deleted. The Nationals were upset with his words, which Houchins admitted they had a right to be. Houchins added, though, that the comments weren't hateful and just part of how he and his friends (many African-American) talk.
"Honestly, in my eyes, there was no lesson to learn," Houchins said. "It's just what I said got blown out of proportion, and I paid the price for it." (
Washington Post
)
CLUTCH
: Matthew Leach runs through a list of players who have been clutch so far this season. The one thing that caught my eye is
Asdrubal Cabrera
's performance with the bases loaded -- a pristine 6 for 6. (
MLB.com
)
INJURY PROBLEMS
:
Paul Konerko
's left calf strain has made lineup maneuverings tough for skipper Ozzie Guillen, and if the
White Sox
had gone into extra innings last night, would have done so without a DH when Konerko was pinch-run for by
Brent Lillibridge
, with Lillibridge moving to first for the ninth. (
Chicago Tribune
)
LYNN, TOO
:
Cardinals
reliever
Lance Lynn
strained his left oblique in Tuesday's game and will hit the disabled list, depriving the team of one of its most dependable late-inning relievers. (
St. Louis Post-Dispatch
)
SURGERY
:
Reds
shortstop
Zack Cozart
is likely to undergo surgery to repair a hyperextended left elbow, and would prefer to get it over with sooner rather than later. (
Cincinnati.com
)
LOPEZ ... HEPING?
There's a piece up today about
Felipe Lopez
, who supposedly doing well in Milwaukee after coming over from Tampa Bay, starting nine of the last 10 games. How someone hitting .235/.289/.235 in 34 at-bats (which was conveniently omitted from the story) is doing well is not clear. (
MLB.com
)
LAST RING
:
Bengie Molina
was at the
Rangers
game on Tuesday, collecting his AL championship ring -- the last ring Texas needed to hand out. He also threw out the first pitch and told his ex-teammates not to waste their strong season. (
Ft. Worth Star-Telegram
)
SANTO STATUE
: The
Cubs
will unveil a statue of Ron Santo on Wednesday. In the article, an interesting tidbit:
Kerry Wood
only returned to the Cubs because he ran into GM Jim Hendry at Santo's funeral in December. (
Chicago Tribune
)
ILLEGAL BALLS
: An independent baseball team, the Lake County Fielders, had a game suspended Friday night for claims that the team provided inferior baseballs to be used. These baseballs were not sanctioned for professional use, but were still brand new and purchased from a sporting goods store. In financial trouble, the team hadn't placed its order to Rawlings for the baseballs until it was too late, and umpires decided the baseballs weren't acceptable. League officials have since approved their usage. (
DailyHerald.com
)
For more baseball news, rumors and analysis, follow @EyeonBaseball on Twitter or subscribe to the RSS feed.