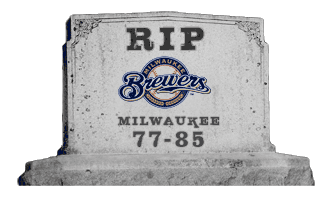 As the sports world waits for the crowning of a champion, 22 other teams are busy preparing for spring training. What went wrong for these teams, and what does 2011 hold? MLB Facts and Rumors here at CBS Sports will be answering those questions through all of October. Next up: the Milwaukee Brewers.
Two years ago, the Brewers were exciting and a team to watch. They had potential, they had youth, they had star power. This year, they still had a team. It's not that the Brewers were bad -- they weren't good, but they weren't bad -- they were just immaterial. Still, the team has some talent and some hope for the future.
WHAT WENT WRONG
In a word: pitching. in two words: starting pitching.
Outside of
Yovani Gallardo
, the Brewers starters were not good.
Randy Wolf
had a winning record, but Gallardo and
Chris Capuano
were the only starters with an ERA+ of 100 or better, and Capuano was right at 100, but started just nine games. And then there was
Jeff Suppan
.
WHAT WENT RIGHT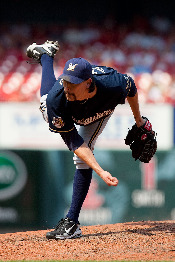 The Brewers certainly have a potent offense -- they were third in the National League with a .759 OPS and fourth with 750 runs.
Rickie Weeks
had the season everyone hoped he'd have when he showed such promise as a rookie in 2005. Weeks hit .269/.366/.464 with 29 homers and 83 RBI.
Corey Hart
had a great first half, hitting 21 homers en route to an All-Star appearance, but had just 10 the rest of the season.
John Axford
(pictured) was lost in a sea of great rookies in the National League in 2010, but nearly any other season he'd find a way to pick up a Rookie of the Year vote or two as a result of his 24 saves and 2.48 ERA.
Kameron Loe
and lefty Zack Braddock were also impressive out of the bullpen.
HELP ON THE WAY
Amaury Rivas was a solid starter in Double-A, but beyond him, there's not much immediate impact in the Brewers' minor leagues for the rotation, which is where the team needs the most help.
The team's best position prospect, Brett Lawrie, plays second base. Weeks is headed to his third season of arbitration, so Lawrie may be a good choice to replace Weeks if the Brewers are out of the race at the trade deadline.
EXPECTATIONS FOR 2011
Right after the season ended, the Brewers announce they'd keep ticket prices the same -- that tells you something. Still, most will expect a little better than the 77-85 record. Most will be expecting a record around .500 with anything under the mark as a disappointment.
SUGGESTIONS FOR 2011
The Brewers have money to play with -- as they shed the contracts of Suppan,
Bill Hall
and Braden Looper. Plus they'll decline the option on Hoffman. That will help offset the raises set to kick in to
Ryan Braun
, Hart and Gallardo.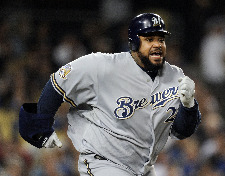 They need to spend their extra money on starting pitching -- there's not a whole lot of attractive options out there, but I might go for a guy like
Javier Vazquez
. Vazquez has been a disappointment with the
Yankees
, but he's an innings-eater and going from the American League East to the National League Central would certainly help. They can also look through the trash heap at a guy like Kevin Milwood, maybe.
The biggest question will be what to do about
Prince Fielder
. The first baseman is a free agent after 2011, and this offseason would be the best time to ship him out of town. Fielder got his wish and the team jettisoned manager Ken Macha, but he's ready for his final year of arbitration and then free agency. He may be worth more before the 2011 season, but look for the team to hold on to him until the trade deadline.
2011 PREDICTION
The division the Brewers play in can't be stressed enough -- the National League Central has two pretty good teams in the
Reds
and
Cardinals
, but it's not as if they have a team like the
Phillies
or Yankees or
Red Sox
. If everything breaks right, the Brewers could be in it come September. More likely, though, they'll be comfortably in third place, behind the two better teams but better than the
Cubs
,
Astros
and
Pirates
.
Check out the rest of the R.I.P. reports here .
-- C. Trent Rosecrans
For more baseball news, rumors and analysis, follow @cbssportsmlb on Twitter or subscribe to the RSS feed .